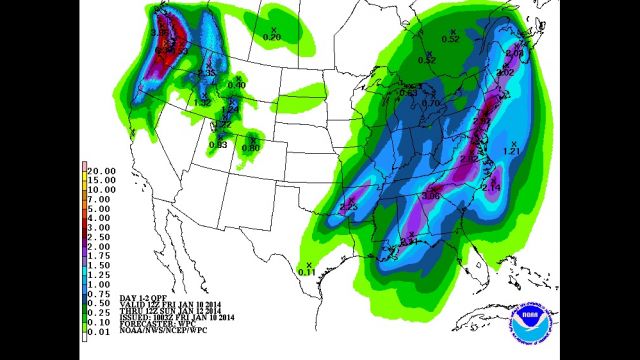 In the next 36 hours, we are looking at the potential for 1.5-2" of rain to fall across the Western Carolinas and NE Georgia. Starting today, a stationary front sits just off the coast of the Carolinas, continuously funneling a southerly flow full of Gulf moisture into our area. Expect mostly cloudy skies today with on & off rain, totaling close to 1/2 inch today and tonight. Western NC counties should see a little less rain today than the Upstate. Overnight, scattered showers continue.

Saturday a cold front will approach the area while the stationary front pulls out to sea. In advance of the frontal passage late Saturday, expect moderate to heavy rainfall to push through. Rain will be steady for much of the day, with highs in the upper 50s. Rain should finally taper off after dinnertime and exit the region overnight. Expect the wind to be a nuisance all day, blustery at times at 10-15mph, gusting to 25mph. Upstate and NE Georgia have a good chance to be dry by 9pm Saturday, though the TN border in Western NC could continue to see rain showers, and a possible wintry mix as temperatures drop late into Saturday night.
By Sunday the cold front will have pushed east with all the wet weather, leaving a light breeze and sunny skies. Highs reach the low to mid-50s Sunday, so we'll be able to enjoy the second half of the weekend outdoors.