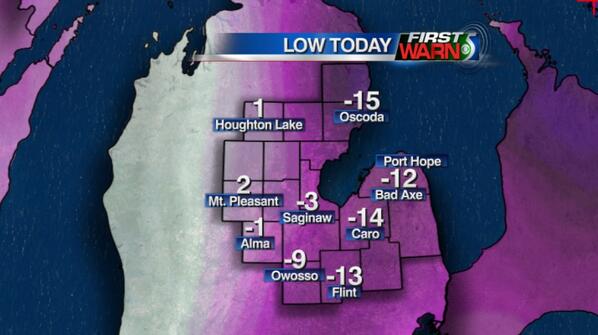 These are our unofficial morning lows. Flint did tie the record low this morning...the previous record was from 2000.
It's so cold in Flint that officials are pushing back the planned opening of a new outdoor ice rink.
The Flint Journal reports that Kettering University officials planned to open the rink at Atwood Stadium on Wednesday but delayed the event until 6 p.m. Friday due to extreme cold and staffing issues.
According to the National Weather Service, it was 8 degrees around midday Wednesday in Flint after dropping as low as 10 below zero earlier.
Once open, the rink will be open from 6 p.m. to 9 p.m. on Wednesdays and Fridays and from 2 p.m. to 6 p.m. Saturdays. Admission is free.
------
Information from: The Flint Journal, http://bit.ly/1mGqZMc
Click here to sign up for Breaking News texts, here for our email newsletters and alerts and here to follow us on Twitter.
Copyright 2014 Associated Press. All rights reserved.