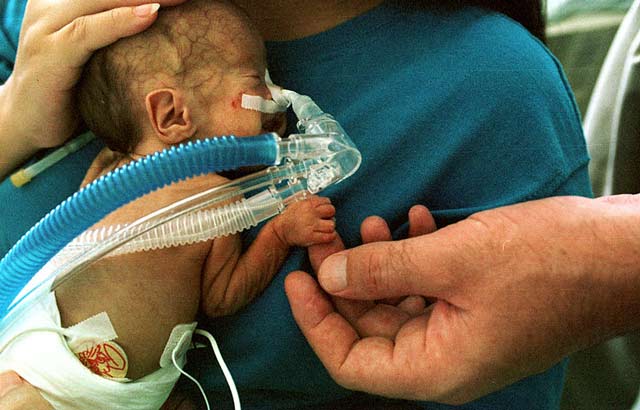 A premature infant with a CPAP breathing tube.
BAY CITY, MI (AP) -
A Bay City woman's experience has led to a program now in its fifth year to ensure premature babies are properly clothed.
The Bay City Times reports that Christi Bauman's PJs for Preemies program collects preemie-size clothing for the Neonatal Intensive Care Unit at Covenant HealthCare in Saginaw.
She got the idea after giving birth to a son, Kolton, who was born nearly two months premature on May 16, 2008. She says that seeing her 4-pound, 9-ounce baby initially wearing clothes that were too big for him was overwhelming.
This year's drive ends Jan. 31. She collects preemie clothing that includes pajamas, clothes and sleep sacks.
Bauman's goal is to collect 1,000 pairs of pajamas this year. Last year she collected 890.
------
Information from: The Bay City Times, http://bit.ly/KIfWDb
Click here to sign up for Breaking News texts, here for our email newsletters and alerts and here to follow us on Twitter.
Copyright 2014 Associated Press. All rights reserved.