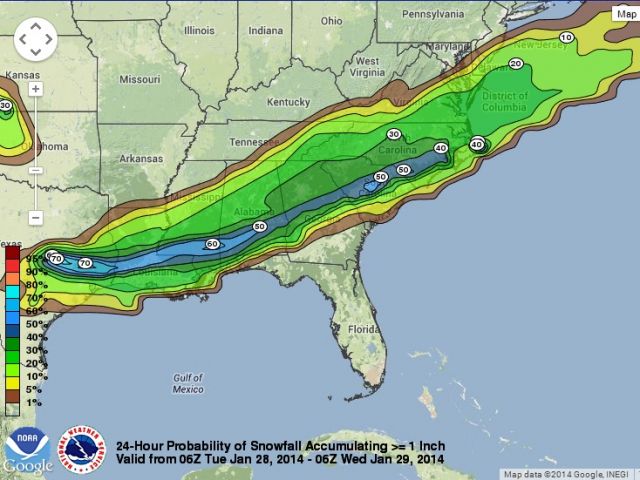 Probability of More than 1 inch by Wednesday Afternoon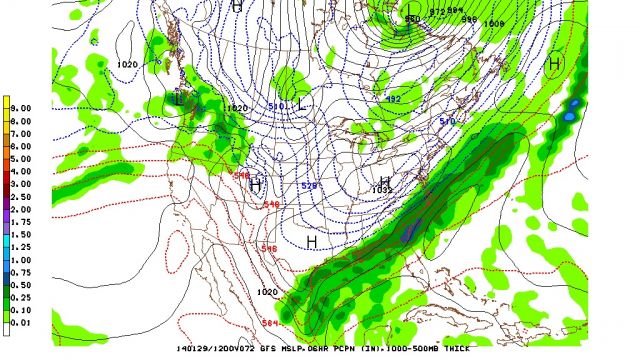 12Z GFS 1000-500mb Thickness for Wednesday Morning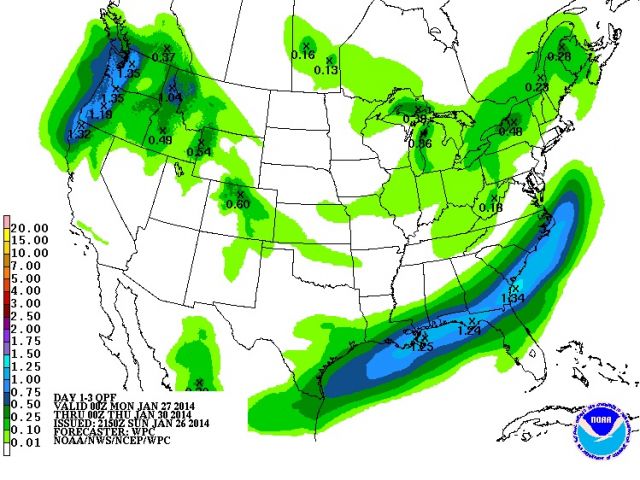 GREENVILLE, SC (FOX Carolina) -
We are looking to see yet another arctic front push into theCarolinas on Monday which will bring Temperatures well below average for the middle portion of the week. This cold air will collide with warmer moist air from the south and cause a line of snow showers from North Carolina down throughSouth Carolina into Georgia and west as far as Louisiana and far eastern Texas!
Winter Storm Watches will be in effect from Tuesday morning through Wednesday Afternoon for many counties across these states. Snow accumulations of two or more inches can be seen in these areas. Some locations may even exceed three or four inches.
For the Upstate, the chance of snow is much lower than our coastal companions. Dry arctic air in place will act as a sharp cut off betweenSunny skies and Snow showers. The location of this boundary will help in determining the distribution of snow accumulation across the upstate.
At this time the latest Euro and NAM models have much of the snow remaining off to our south, while the GFS has much of the moisture pouring into the Upstate and even parts of Western North Carolina.
For now I'm forecasting a slight chance of snow showers lateTuesday into Wednesday for parts of the Upstate while I expect the Mountains won't see a flake.
As the models update and the day approaches we will likely see a few changes in the forecast, but this will certainly be something to keep an eye on for the next few days.