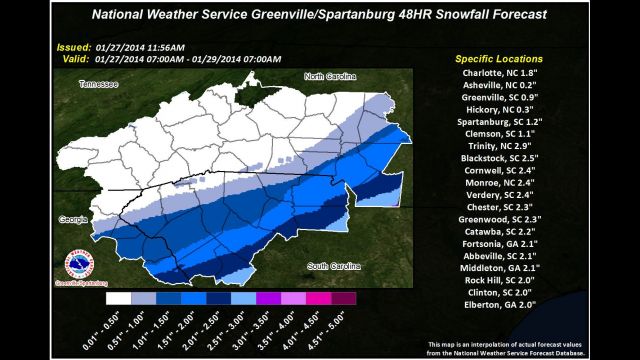 Snow Total Forecast By NWS at GSP (Subject to Change)
GREENVILLE, SC (FOX Carolina) -
As we advance closer to this potential snow event we are beginning to get a clearer idea on what to expect. Many factors can still change, yet we are starting to see the models trend further to the north and west.
This means that we are beginning to see a bit of snow accumulation possible for the Upstate and perhaps parts of the Mountains as well. The range can be seen in the Image added to the right.
Timing for this event has also changed in the latest model runs. What initially looked like a late evening and overnight event, is beginning to change. We are starting to see snow showers develop a little earlier, making it possible to see flakes in the Upstate by early to mid-afternoon.
Our Futurecast is predicting a thin band of moisture developing into snow over the mountains at about 10am then gradually meeting up with a southern band right above the Upstate by 3pm. Snow will then quickly drift to the south, yet linger over our southern counties for a small period of time.
With this pattern we are still expecting the highest accumulations to remain off to our south. For our area though, we can see between one to two inches for our far southern counties, and just a light dusting to a half an inch for our far northern counties in the Upstate and Mountains region.
The totals gradient will be very steep with dry and moist air colliding right over the upstate. Many variables can still change between now and Tuesday afternoon, potentially changing snow totals and timing. Keep it locked to FOX Carolina for the latest as we bring you the updates as we get them!