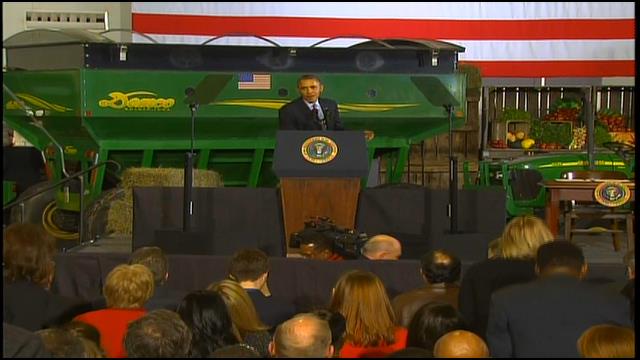 Pres. Obama in East Lansing on Friday.
EAST LANSING, Mich. (AP) -
President Barack Obama says signing the sweeping farm bill in Michigan makes sense because of its strong agricultural industry and few states better symbolize the nation's challenges during the past few years.
Obama told an audience at Michigan State University on Friday that the legislation boosts research at the East Lansing campus and other schools. Agriculture is Michigan's second largest industry behind manufacturing, which Obama says is "roaring again" after hard times and bankruptcies.
The president says the nearly $100 billion-a-year bill passed after years of wrangling largely because of Democratic Michigan U.S. Sen. Debbie Stabenow, who spoke before him.
The bill will spread benefits to farmers in every region of the country while trimming the food stamp program; the cuts inspired a two-year battle over the legislation.
The bulk of its $100 billion per year cost is for the food stamp program that aids 1 in 7 Americans.
Obama says it still protects vulnerable Americans.
Before his speech, Obama said he ate lunch with Detroit Mayor Mike Duggan. He says Duggan wanted everyone to know that "Detroit is open for business" despite undergoing bankruptcy.
Click here to sign up for Breaking News texts, here for our email newsletters and alerts and here to follow us on Twitter.
Copyright 2014 Associated Press. All rights reserved.