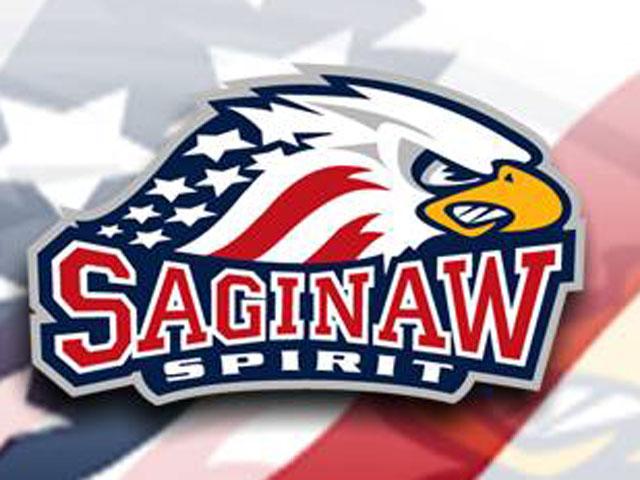 SAGINAW, MI (WNEM) -
The Saginaw Spirit returned home to face the Sault Ste. Marie Greyhounds for a Saturday night Western Conference hockeygame. In a high-scoring physical battle at The Dow Event Center the Greyhounds defeated the Spirit by a score of 6-5.
Saginaw's Nick Moutrey put the Spirit up 1-0 five minutes into the first period when he finished off a breakaway goal witha quick wrister that was set up by a pretty pass from Justin Sefton. Saginaw jumped out to a 2-0 lead after Dylan Sadowy picked up a bouncing puck at center ice and broke in for a shorthanded breakaway goal for his twentieth of the season with ten minutes remainingin the period that was assisted by Terry Trafford.
The Greyhounds struck 47 seconds into the second period when Tyler Ganly fired home a goal that was assisted by Jean Dupuyand Sergey Tolchinsky to make it a 2-1 game. Sault Ste. Marie tied the game at two when Tyler Gaudet netted a two-on-one even-strength goal that was assisted by Jean Dupuy with fifteen minutes left in the period. The Spirit regained the lead, 3-2, when EricLocke broke free for Saginaw's second shorthanded and third breakaway goal of the game that was assisted by Sean Callaghan with thirteen minutes remaining in the second period.
The Greyhounds tied the game at three less than one minute into the third period when Jared McCann scored a goal that wasassisted by Sergey Tolchnisky and Alex Gudbranson. Sault Ste. Marie took their first lead of the game, 4-3, with sixteen minutes remaining in the third period when Alex Gudbranson netted a powerplay goal that was set up by Sergey Tolchinsky and Jared McCann.Saginaw notched the game up at four when Luke Cairns sniped his twelfth goal of the season off a pass from Eric Locke with ten minutes remaining in the game. The Soo took a 5-4 with five minutes remaining in the game when Tyler Gaudet scored his second goalof the night that was assisted by Jean Dupuy and Blake Speers. The Greyhounds' Trent Mallette made it 6-4 when he fired home an unassisted goal with three minutes left in the game. With 56 seconds left in the game Jesse Graham scored a goal that was assistedby Eric Locke and Kristoff Kontos to make it a 6-5 game, which is how it ended.