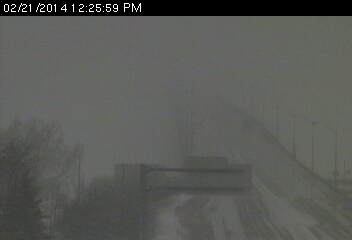 A view of the bridge from the Mackinac Bridge Authority's website.
High winds and poor visibility at the Mackinac Bridge have prompted officials close the span to all traffic.
Operators of the five-mile bridge connecting Michigan's Upper and Lower Peninsulas are asking motorists Friday to reduce their speed to 20 mph as they approach the bridge and be prepared to stop. A notice of the shutdown was posted on the bridge's website.
Earlier in the day, before the shutdown, operators had advised that they were requiring an escort of larger vehicles such as semis.
Whiteout conditions were reported in western Michigan and parts of the Upper Peninsula. Authorities say a stretch of U.S. 2 near the Mackinac Bridge was closed due to weather conditions and poor visibility. The roadway also was closed in part of Delta County.
------
Online: http://www.mackinacbridge.org