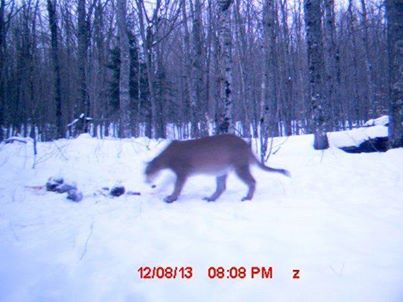 Prosecutors are expected to charge three men who state wildlife officials say illegally killed a cougar in Michigan's Upper Peninsula.
Michigan Department of Natural Resources Lt. Skip Hagy tells The Bay City Times that the Schoolcraft County prosecutor's office is bringing charges. Hagy says the Bay County men are to be arraigned March 5 in Schoolcraft County District Court.
Names of the men weren't immediately released.
Cougars are also known as mountain lions and are classified in Michigan as an endangered species. Hagy didn't specify what charges the men would face. The penalty for illegally killing one in Michigan is up to 90 days in jail and restitution up to $2,500.
The DNR earlier said the cougar was killed in December at a hunting camp in northeast Schoolcraft County.
------
Information from: The Bay City Times, http://www.mlive.com/bay-city
Click here to sign up for Breaking News texts, here for our email newsletters and alerts and here to follow us on Twitter.
Copyright 2014 Associated Press. All rights reserved.