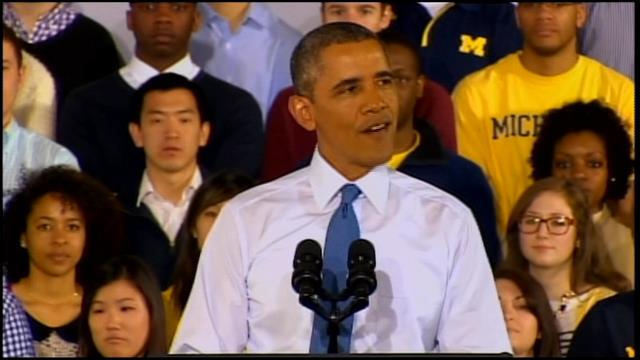 ANN ARBOR, MI (AP) -
President Barack Obama is arguing for an increase in the minimum wage, saying no one who works full time should be in poverty.
Obama says raising the minimum wage won't solve all of the nation's economic problems. But he says it's good for business, increasing productivity and giving workers more buying power.
Ahead of his remarks, Obama visited an Ann Arbor deli where workers make $9 an hour, higher than the federal hourly minimum wage of $7.25.
For excerpts of the speech, click on each link:
Obama talks about raising the minimum wage
Obama talks education affordability
Obama talks about who benefits from minimum wage increase
Obama talks future of young adults
The Senate could vote on a bill to raise the minimum wage to $10.10 as early as next week. The White House says raising the minimum wage would benefit more than 970,000 workers in Michigan.
Copyright 2014 Associated Press. All rights reserved.