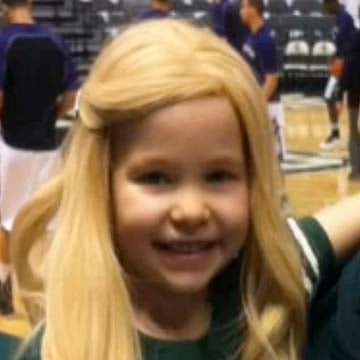 DETROIT (AP) -
The father of an 8-year-old girl with cancer who befriended Michigan State basketball star Adreian Payne says his daughter has died.
Matt Holsworth says Lacey Holsworth died at their St. Johns, Mich., home late Tuesday "with her mommy and daddy holding her in their arms."
Lacey met Payne during one of her hospital stays two years ago, and their friendship quickly blossomed and strengthened.
When it was Payne's turn to be honored during Senior Night, the 6-foot-10 center scooped up Lacey and carried her around the court. He did it again in Indianapolis after Michigan State won the Big Ten tournament, and the little girl with the blond wig was there when he took part in a recent slam-dunk competition.
Holsworth said Wednesday Lacey "loved unconditionally and without hesitation."
MSU Athletic Director Mark Hollis released this statement regarding Lacey's death.
"It's remarkable how many lives lacey touched in her short life here on earth. She had a zest for living and was so courageous in her battle against cancer. Lacey impacted not only our Spartan basketball program but the entire university community. Through her special relationship with Adreian Payne, Lacey captured the hearts of many people throughout our state and nation. All people had to see was that radiant smile that could light up an entire arena. Our hearts are heavy, but we'll never forget the life lessons Princess Lacey taught us."
A memorial service for Lacey will be held April 17 at the Breslin Center, the Spartans' home arena.
Copyright 2014 Associated Press. All rights reserved.