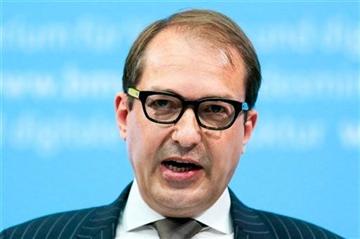 (AP Photo/Markus Schreiber). Alexander Dobrindt,German Minister of Transport and Digital Infrastructure presents a plan of his Ministry for a car toll Monday, July 7, 2014.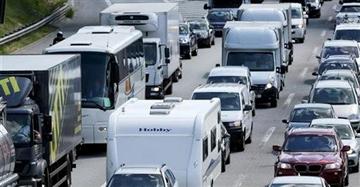 (AP Photo/dpa, Bodo Marks,file). FILE - In this June 6, 2014 file picture cars queue up on higway 7 near Hamburg, Germany.
By GEIR MOULSON
Associated Press
BERLIN (AP) - Germany plans to introduce a car toll that seeks to make money from the millions of foreigners who drive through the country every year, the transport minister said Monday.
Germany has a truck toll but, unlike many European countries, no car toll. Minister Alexander Dobrindt said it wasn't fair that foreign drivers do not contribute to maintaining the roads and that "fairness gap" should be closed.
Dobrindt plans to introduce toll stickers in 2016 for all cars using any roads in Germany, not just highways. Foreign drivers will be able to get one-year, two-month or 10-day stickers online or at filling stations. The cheapest option, the 10-day sticker, will cost 10 euros ($13.60).
Annual fees will vary according to cars' engine size and environmental credentials and average 88 euros ($120), while a separate car tax will be reduced so German drivers won't pay more overall. Dobrindt expects proceeds over four years to be about 2.5 billion euros ($3.4 billion).
Dobrindt's Bavaria-based conservative party, the smallest of three in Chancellor Angela Merkel's government, insisted on introducing a car toll for foreigners despite the long-standing misgivings of its coalition partners.
Many worry the system won't be compatible with European Union law because only foreign car owners will pay more. Yet after months putting together the elaborate plan, Dobrindt said he's confident that won't be a problem.
EU Transport Commissioner Slim Kallas' office said it saw "many positive elements" in the plan but "until all the details are known and discussed there can be no green or red light from Brussels."
It stressed that any efforts should not directly discriminate against foreign drivers.
Copyright 2014 The Associated Press. All rights reserved. This material may not be published, broadcast, rewritten or redistributed.