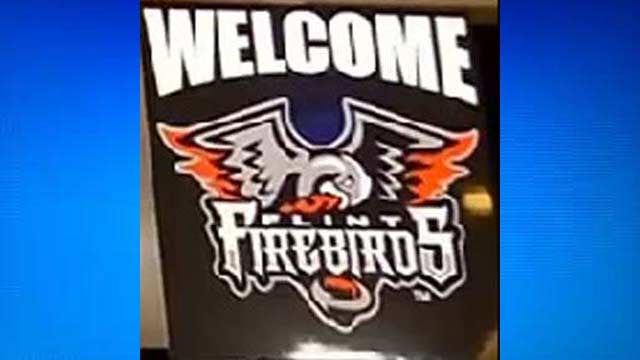 FLINT, MI (WNEM) -
Flint, Mich. – Four current players in the Firebirds system represented Flint in National Hockey League (NHL) Prospect Development Camps over the last two weeks.

Firebirds' Connor Chatham (New Jersey Devils), Alex Peters (Dallas Stars), Vili Saarijärvi (Detroit Red Wings) and Josh Wesley (Carolina Hurricanes) all recently competed in NHL camps.

Chatham, a New Jersey Devils 3rd round pick (71st overall), in 2014, scored 17 goals and added 20 assists for the Whalers in 48 games last season. Prior to Plymouth, Chatham played for the U.S. National Team Development Program (USNTDP).

Peters, the captain for the Whalers last season, is a Dallas Stars 3rd round pick (75th overall), in 2014 and recorded 25 points in three season with Plymouth.

Saarijärvi was recently drafted by the Detroit Red Wings in the 3rd round of the 2015 NHL Draft (73rd overall) prior to being drafted by the Firebirds in the 1st round (9th overall) of the CHL Import Draft on June 30. Saarijarvi was also chosen as the Most Valuable Defenseman in the prestigious 2015 IIHF Ice Hockey U18 World Championships in April, where Team Finland captured the Silver Medal in the championship contest played against Team USA.

Wesley, a Carolina Hurricanes 4th round pick (96th overall), in 2014 will play in his third season in the OHL this year and made his professional debut on April 18 with the Charlotte Checkers in the American Hockey League (AHL).

The prospect camps give NHL clubs the opportunity to evaluate some of the game's top prospects from the junior and professional levels. Players take part in daily intrasquad contests along with sessions on player development and on-ice workouts among many other things.

Both drafted players and free-agent prospects along with invitees can participate in these camps, providing the NHL teams a chance to survey player skills, abilities and growth.

Each NHL team runs its own development camp during the summer months, which includes their drafted prospects as well as a handful of players who are invited as guests.
Firebirds season tickets for the 2015-16 inaugural season are currently on sale and can be purchased at the Dort Federal Event Center Box Office, Monday thru Friday from 9 a.m. to 5 p.m. (ET). More information on season tickets can be found at FlintFirebirds.com or by calling Mary Nagy at the Dort Federal Event Center Box Office at (810) 744-0580. Individual game tickets will go on sale Friday, Aug. 7, at 10 a.m. (ET). Opening night is Saturday, Sep. 26, versus the Saginaw Spirit.

Copyright 2015 Associated Press. All Rights Reserved.