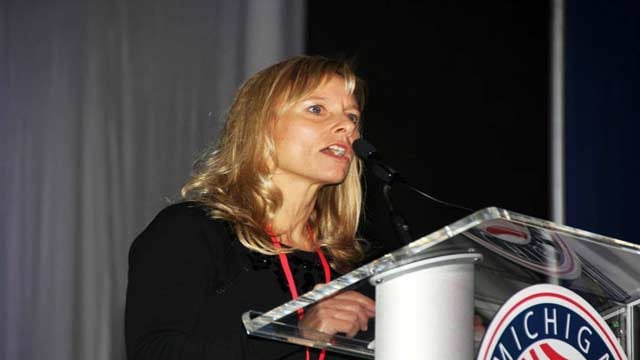 Cindy Gamrat, photo courtesy Gamrat's Facebook page
FENNVILLE, MI (AP) -
Dozens of angry constituents have confronted a Michigan lawmaker for her extramarital affair with another state representative and their attempt to hide it from the public.
Republican Rep. Cindy Gamrat met with people Tuesday night at Fennville City Hall in southwestern Michigan. It's her first constituent meeting since the scandal broke.
Many said they felt betrayed and believed she should resign. Some expressed frustration with her request Tuesday that she be censured, saying such a penalty would be too lenient.
A censure would allow the House to take away Gamrat's committee assignments, staff and ability to send mailings to constituents.
Donna White of Casco Township says letting Gamrat stay in office would still effectively leave the district without representation. She says Gamrat is "selfish" for collecting a salary.
Republican Rep. Todd Courser has admitted to orchestrating a false email that claimed he was having sex with a male prostitute -- an effort to make his affair with Gamrat less believable if it was exposed.
Copyright 2015 Associated Press. All rights reserved.