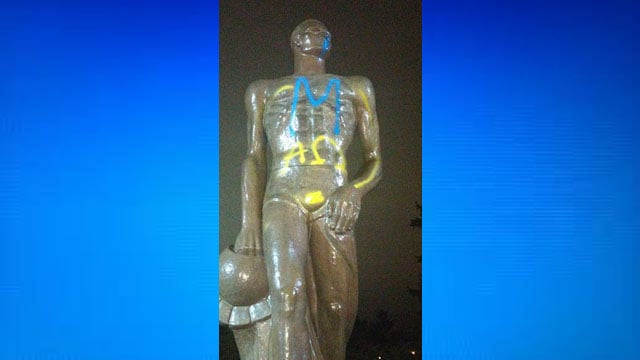 EAST LANSING, MI (AP) -
There may be some confusion about what football team the University of Michigan is playing this weekend.
Police tell the Lansing State Journal the "Sparty" statue was vandalized with paint about 2 a.m. Friday. A landscaping services crew cleaned it a few hours later.
The figure was marked with blue and yellow paint and the letter "M" on its chest along with "A" and the Greek letter omega. The University of Michigan's colors are maize and blue, and vandals more often target the statue around when Michigan plays Michigan State.
The vandalism took place before No. 5 Michigan State hosts No. 7 Oregon on Saturday at Spartan Stadium. The same day in Ann Arbor, Jim Harbaugh makes his home debut as Michigan's coach when the unranked Wolverines host Oregon State.
Copyright 2015 Associated Press. All rights reserved.