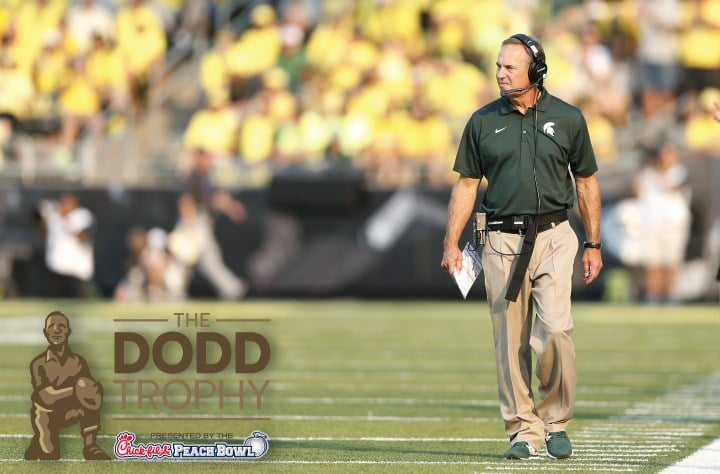 Officials from the Bobby Dodd Coach of the Year Foundation and Chick-fil-A Peach Bowl today announced that Michigan State Head Football Coach Mark Dantonio has been selected as The Dodd Trophy Coach of the Week.

The Dodd Coach of the Week Award honors the football coach whose program embodies the award's three pillars of scholarship, leadership and integrity, while also having success on the playing field during the previous week.

"Academically, Coach Dantonio's teams are always productive in the classroom and a great APR score reflects that. Combine that with his program's recent success and he is a true representative of what this award stands for," said Jim Terry, Chairman of the Bobby Dodd Coach of the Year Foundation. "We're both proud and excited to recognize his recent accomplishments and are eager to see his continued success this season."

Away from the gridiron, Dantonio has pledged to support student-athletes as they pursue excellence in the classroom. In his first eight seasons, a total of 142 players have earned their undergraduate degrees, including 98 players who have earned Academic All-Big Ten honors. Most recently in 2014, punter Mike Sadler became MSU's first four-time Academic All-American. Additionally, the program as a whole has posted an Academic Progress Rating (APR) score of 973 out of a possible 1,000.

Dantonio is also an advocate for giving back to his community. In 2009, he was named honorary chairman of the Children's Miracle Network at Sparrow Children's Center in East Lansing where he plays an integral role in helping children in the Michigan region get the care they need. Each year, Dantonio also co-hosts the annual Sparrow CMN Telethon that has raised more than $20 million since its inception.

On the field, Michigan State defeated No. 7 Oregon 31-24 in front of a Saturday night primetime audience. The Spartans are currently ranked No. 4 in this week's AP poll and received two first-place votes as well. Since the beginning of the 2013 season, Michigan State is 26-3, good for the third-most wins of any FBS school during that time span. Overall under Coach Dantonio, Michigan State boasts a record of 77-31 and has posted four 11-win seasons in the last five years, a feat accomplished by just two other coaches in Big Ten history in any five-year span.

The Dodd Trophy – along with the Dodd Trophy Coach of the Week Award – celebrates the head coach of a team who enjoys success on the gridiron, while also stressing the importance of scholarship, leadership and integrity.

The winner of the 2015 Dodd Trophy will be announced in Atlanta during Chick-fil-A Peach Bowl Week. A panel consisting of all previous winners, national media, a member of the Dodd family and a College Football Hall of Fame member will identify the final list of potential recipients at the conclusion of the 2015 season.