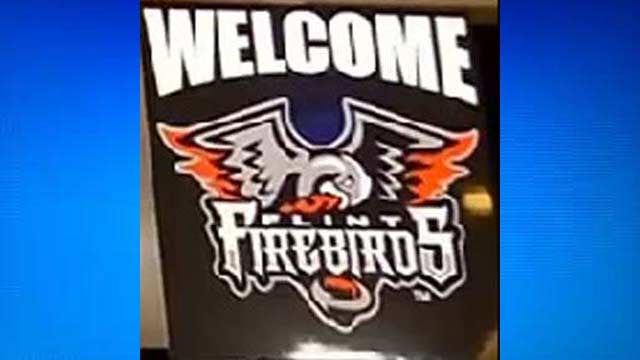 SAGINAW, MICH. – The Saginaw Spirit and Flint Firebirds made Great Lakes Bay Region hockey history on Thursday night. The home opener for the Spirit manifested the Coors Light I-75 Divide rivalry between the two teams and marked the first time the Firebirds franchise played in the OHL. Thursday's game was the first game of a home and home match up for the Michigan opponents, with the Firebirds taking a 3-0 win back to Flint in the inaugural game of the I-75 divide.
The first half of the opening period left the Spirit and the Firebirds scoreless. Flint's Bryce Yetman took the first penalty of the night for slashing and sent the Spirit power play unit to the ice. Saginaw put some intense offensive pressure on Flint's starting goaltender Zack Bowman, but was unable to capitalize on the man advantage. Ryan Moore opened the game's scoring, finding an open spot over the shoulder of Saginaw's starting goaltender Evan Cormier. Moore's goal came 14:55 into the first period, giving the Firebirds a 1-0 lead over the home team. Minutes later Nicholas Caamano scored shorthanded to go up 2-0 with the help of Francesco Vilardi. Though the Spirit remained scoreless in the first period, Saginaw had an impressive share of scoring chances, outshooting the Firebirds 13-8.
Just 25 seconds into the second period the Spirit and the Firebirds entertained the Spirit crowd with some four-on-four hockey as Saginaw's Connor Brown and Flint's Josh Wesley sat in the penalty box for slashing. Things remained quiet on the ice until Flint's Will Bitten found the back of the net at 16:55, recording one more tally before the buzzer sounded to give the Firebirds a 3-0 lead. The Spirit continued to stomp out the Firebirds in scoring opportunities throughout the period, outshooting the visiting team 13-9.
Tensions flared on the ice during the third period as the Saginaw Spirit fought hard to score and the Flint Firebirds looked to defend their 3-0 lead. Final shots on goal read 30-24, in favor of the Flint Firebirds.
Applebee's Three Stars
Zack Bowman – FLNT

Mathieu Henderson – FLNT

Ryan Moore – FLNT