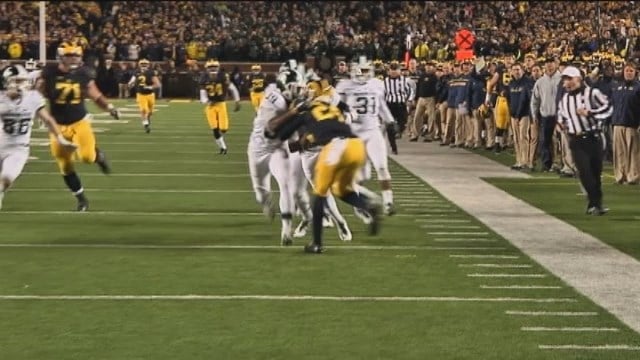 ANN ARBOR, MI (AP) -
Michigan coach Jim Harbaugh says he would love to have the opportunity to see how other plays might have worked at the end of the Michigan State game.
Harbaugh acknowledged Tuesday on a teleconference that running the ball outside to take more time off the clock was something he considered on first, second and third down.
The Wolverines handed the ball off to De'Veon Smith three times and he gained 8 yards. That left them with a fourth-and-2 at the Michigan State 47 with 10 seconds left. Punter Blake O'Neill fumbled and Jalen Watts-Jackson returned the football 38 yards to give the Spartans a stunning 27-23 win.
Harbaugh says one play never decides a football game.
The 15th-ranked Wolverines don't play again until Oct. 31 at Minnesota.
Watch our exclusive angle on that play here.
Copyright 2015 Associated Press. All rights reserved.