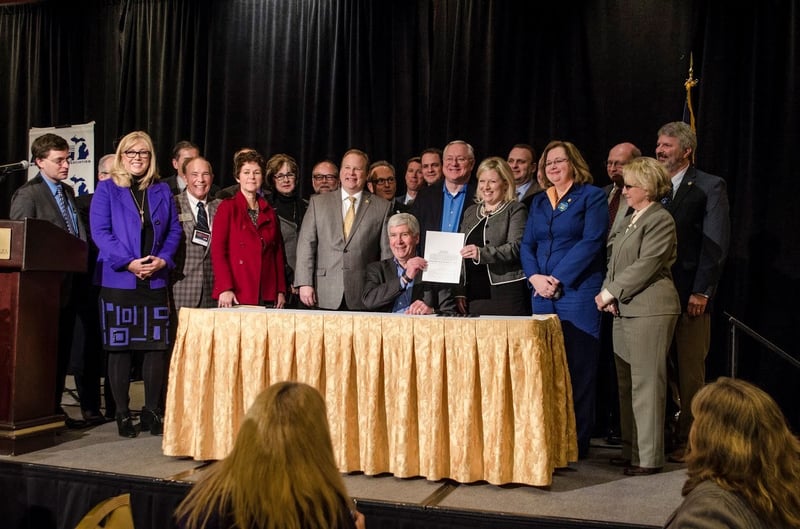 FLINT, MI (WNEM/AP) -
Michigan Gov. Rick Snyder has signed into law $28 million in emergency funding to address Flint's lead-contaminated water crisis.
It's the second round of state aid since the fall, when improperly treated water was found to have leached lead from pipes into the city's supply.
The Republican governor signed the measure Friday at a Michigan Press Association meeting in Grand Rapids. He says the funding will provide immediate resources in Flint but is not the end of state assistance.
The money is intended to pay for bottled water, faucet filters, testing kits, additional school nurses, medical treatment and to help the city with unpaid water bills.
There is also funding to hire outside experts to assess whether Flint's water system infrastructure must be replaced or repaired.
The federal government has earmarked $5 million in assistance for Flint.
"This was a failure of government at every level - federal, state and local. I have apologized for the state's portion of this failure, accepted the resignation of top DEQ officials and suspended two pending a civil service investigation. I pledged to be accountable and those are not idle words - they are being put into action every day," Snyder said.
The $28 million comes from $22.6 million from the general fund. The remaining $5.4 million comes from a combination of federal and restricted funds. It is now Public Act 3 of 2016.
Copyright 2016 Associated Press/WNEM (Meredith Corporation). All rights reserved.