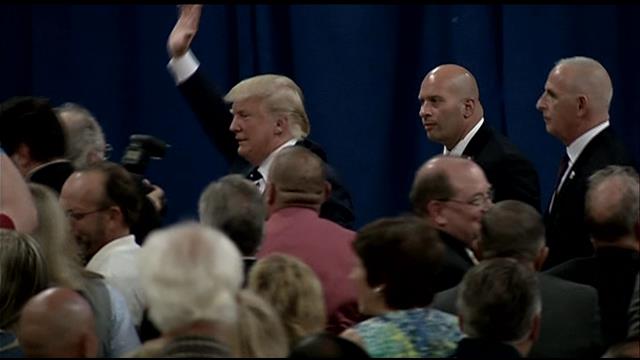 KANSAS CITY, MO (AP) -
Republican presidential front-runner Donald Trump is once again facing repeated disruptions from protesters as he campaigns in Kansas City, Missouri.
He was just a few minutes into his speech Saturday night at a theater in the city's downtown entertainment district when the protests began.
The protesters appear to be scattered in all parts of the theater, and even Trump is marveling at how many are in the crowd.
He's bemoaning that they're taking seats away from his supporters, thousands of which he says are outside and can't get in.
But Trump also says he's ready to wait them out. He says, "I've got plenty of time. ... We're in no rush. We're in no rush."
The Kansas City rally for Donald Trump has drawn a crowd of people hoping to attend the rally and scores who are there to protest the Republican presidential front-runner.
The line of people hoping to attend the rally at the downtown theater snaked around the block Saturday afternoon. Police officers and barricades in the street separated the rally participants from about 200 protesters on the other side.
Many protesters were chanting "Dump Trump" and "Black Lives Matter." Some Trump supporters responded with obscene gestures.
Trump's rallies in recent weeks have been marked by frequent clashes between his supporters and demonstrators.
Protesters who prompted Trump to call off his Chicago rally Friday night after fights broke out with his supporters are hoping the Kansas City event will be shut down before he takes the stage, too.
Copyright 2016 The Associated Press. All rights reserved.