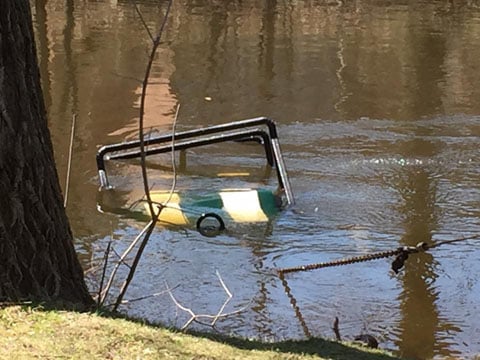 Source: Michigan State University Police Dept.
EAST LANSING, MI (AP/WNEM) -
A golf cart that's usually used by Michigan State University's mascot has turned up in the Red Cedar River.
The school's police department says Sparty's golf cart was reported missing on Sunday from the MSU Union and they asked the public for help in the case.
TV station WILX report it was found Tuesday in the river, which runs through the school's East Lansing campus. It's been removed from the water.
MSU Police now reports that the golf cart cannot be repair and a new one is needed.
A $1,000 reward will be donated to a student-run organization that is selected by the person who submits the information about who stole the cart. That person will also get two football tickets to the home game of their choice during the 2016 season. Anonymity is guaranteed, and Sparty himself will present the check to the selected student-run organization.
Police are also seeking tips as part of their ongoing investigation.
Copyright Associated Press/WNEM (Meredith Corporation). All rights reserved.