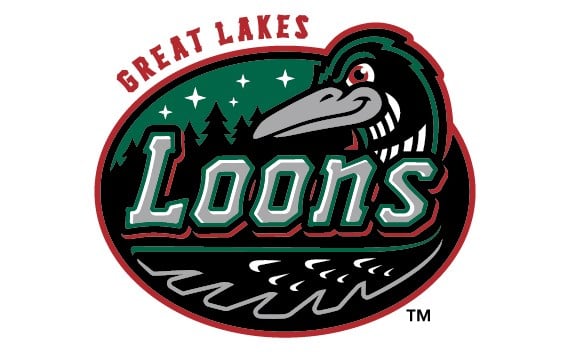 MIDLAND, Mich. – Tonight's game between the Great Lakes Loons and Bowling Green Hot Rods in Game 1 of the Midwest League Eastern Division Semifinals has been suspended due to inclement weather. The game entered a delay at 8:15 p.m. ET in the middle of the 4th inning with the Loons leading 3-0. The game will be resumed at Dow Diamond on Thursday at 2:05 p.m. with gates opening at 1:30 p.m.
Fans that purchased tickets for Wednesday's playoff game will have their ticket honored at Thursday's resumption game. Fans that are unable to attend should contact the Loons ticket staff at (989) 837-BALL or visit the Dow Diamond box office.
Los Angeles Dodgers prospect Yadier Alvarez started on the mound for the Loons and pitched all four innings scattering five hits without allowing a run. He added two strikeouts.
Things remained quiet until the bottom of the 3rd inning when Great Lakes rallied with two outs. Gage Green roped a single into center field and came all the way around to score a soft fly ball from Saige Jenco that hugged the left field line. After Zach McKinstry walked to put two runners on base, a wild play that started with a single from Omar Estevez ended with both Jenco and McKinstry scoring thanks to two errors committed by Bowling Green.
Copyright Great Lakes Loons 2016. All rights reserved.