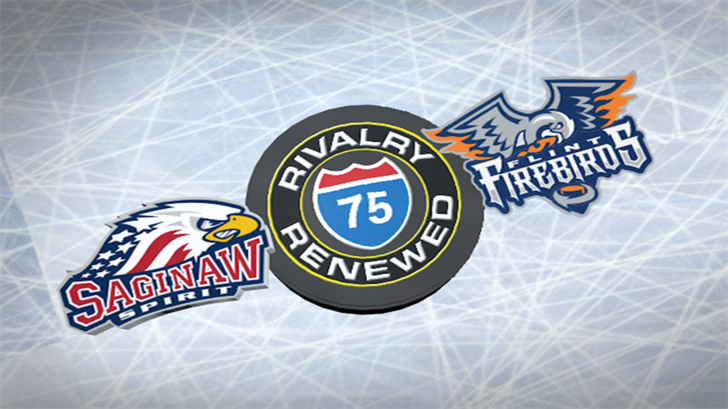 On Wednesday, the Saginaw Spirit dropped the puck on their 15th anniversary season against the Flint Firebirds. Missing six key members of their hockey club, the Flint Firebirds took full advantage and scored just over one minute into the contest. They were also propelled by two shorthanded goals. The Firebirds took the season opener with a 4-0 decision against Saginaw.
Flint's Ty Dellandrea scored the first goal at 1:03 of play with assists from Ryan Moore and Nicholas Caamano. The sixth overall pick in the 2016 Priority Selection Draft scored on the first shot of his first shift in the OHL. At 7:19 of the first, Ryan Moore scored his first of two goals to give the Firebirds a 2-0 advantage. Spirit goaltender Brendan Bonello kept Saginaw in the hockey game that was mostly controlled by the Firebirds. By the end of the first, Flint Firebirds outshot Saginaw Spirit 10-5 and led 2-0.
In the Second period, Saginaw pushed to keep the puck in Flint's zone. C.J. Garcia had a couple of scoring chances on Menna but to no avail. Flint would take the game over with two shorthanded goals in the middle frame. Nicolas Caamano scored on a breakaway from Ryan Moore at 4:32 and 5:33 Ryan Moore scored a shorthanded goal of his own to make it 4-0. A goalie change for Saginaw brought Cameron Lamour in for his OHL debut. The youngster shined in his debut make a great save late in the period to keep it 4-0 after two periods. Shots on goal still favor Flint, 18-12.
Saginaw and Flint kept the aggressive play in the third period. Saginaw gets a fifth power play of the game when Flint's Hakon Nilsen got two minutes for slashing at 9:30. No luck once again for Saginaw's power play, that went 0-5 in the game. Cameron Lamour continued his strong play in goal for the final period where he had an outstanding save in the third period, stopped the puck lying on his back. Game ends with 26-24 shots on goal in Flint's favor.
Copyright Saginaw Spirit 2016. All rights reserved.