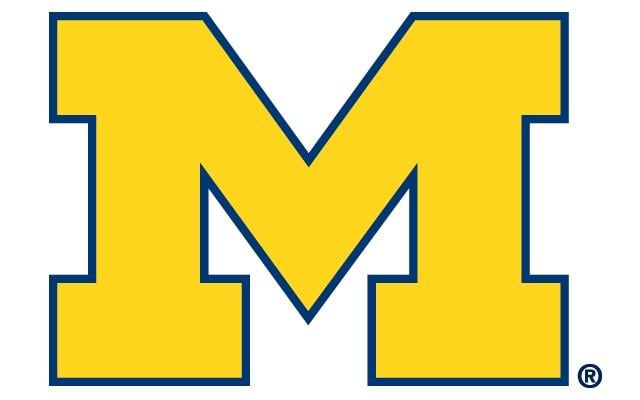 University of Michigan logo
ANN ARBOR, Mich. (AP) -- Wilton Speight finished with a career-high 362 yards after accounting for three touchdowns in the first half, helping No. 2 Michigan build a huge lead before coasting to a 59-3 win over Maryland on Saturday. The Wolverines (9-0, 6-0 Big Ten, No. 3 CFP) scored touchdowns on all five of their drives in the first half.
The Terrapins (5-4, 2-4) hit the right upright on a field goal, came up 1 yard short of a TD at the end of the first half and failed to convert a trio of fourth downs. Even with those potential 10 points and first downs, they didn't really have much of an opportunity to pull off an upset against a balanced offense and swarming defense.
Speight, cool in the pocket and crafty with his feet when he had to move, completed 19 of 24 passes and had a 10-yard TD run. He set a first-half school record with 292 yards passing, connecting on 13 of 16 passes before halftime. De'Veon Smith had a season-high 114 yards rushing and a career-high three TDs.
Maryland quarterback Perry Hills was knocked out of the game by Chase Winovich, who hit Hills and drove his left shoulder into the turf in the second quarter. Caleb Rowe replaced him and threw an interception on his first pass of the second half, directly toward safety Delano Hill, who had another interception later in the game.
Rowe, who was 12 of 23 for 203 yards, helped Maryland throw for 289 yards -- the most Michigan has given up this season.
Copyright 2016 Associated Press. All Rights Reserved.