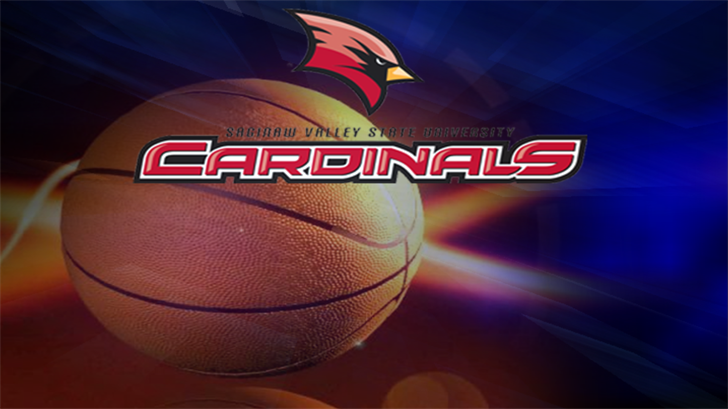 UNIVERSITY CENTER, Mich. - After Saturday's season-opening 31-point victory over Wisconsin-Parkside, the SVSU women's basketball team kept it rolling with a 77-62 home victory over St. Joseph's College on Sunday (Nov. 13) afternoon. After trailing 2-0 37 seconds into the game, the Cardinals got the lead and never looked back the rest of the way, sealing the victory and 2-0 start to the 2016-17 campaign.
The Pumas got the opening bucket in the matchup, but Katelyn Carriere responded with a three-pointer at the 8:45 mark to put the home team in the lead. Buckets from Emily Wendling and Anna Hall, along with a triple from Halee Nieman, would push that lead out to 10-2. The lead reached double-digits after the first of three triples from Francesca Coury with 2:49 left in the quarter (15-5) and the opening quarter would finish with the Cardinals holding a 16-7 edge.
The Pumas drew the score back to 22-15 with 5:18 showing in the second quarter but back-to-back triples from Coury made the Cardinal lead 13 points at 28-15 with 4:30 to play in the opening half. That 13 point lead would happen twice more but three straight buckets from the Pumas cut the deficit to 32-25 heading into the halftime break.
For the second day in a row, SVSU put up 24 points in the third quarter. Wendling was responsible for 15 of those, going just 2-of-5 in the frame but a perfect 11-of-11 from the free throw line to extend the team's lead out to 15 points at 56-41 after 30 minutes of play.
Both teams had 21 points in the fourth quarter, with Carriere leading the way for SV with nine points. The team used a 7-0 run to lead by its largest margin of 17 points with 2:15 to play and the score 74-57. The run featured a Carriere three-point play and a pair of layups from Nieman. The Cardinals would hold on and remain steady until the final buzzer sounded, notching the 77-62 win over their GLVC opponents.
Copyright WNEM Meredith Corp. 2016. All rights reserved.