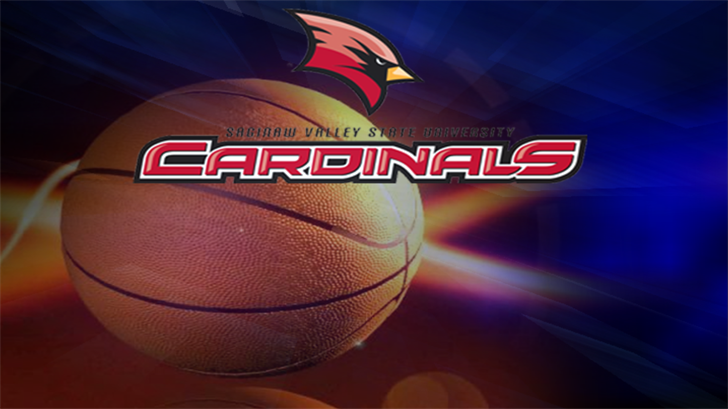 UNIVERSITY CENTER, Mich. - The nationally second-ranked SVSU men's basketball team notched its fifth straight victory to begin the 2016-17 season after defeating the Grace Bible Tigers by a final score of 104-65 in O'Neill Arena. The Cardinals got a career-high 32 points from redshirt freshman Jake Daniels who broke the single game record for three-pointers with nine in the win.
The Cardinals ran out to a 15-0 lead in the game, which was capped-off by a pair of Daniels triples and a good free throw at the 15:13 mark.
The Tigers drew the game a bit closer, but a string of four consecutive triples from Daniels, starting at the 3:05 marker with the score 37-22, made the SV lead 49-24 after the 12-2 run.
Grace Bible would tack-on a pair of free throws with 0.8 seconds left on the clock in the first half, the the Cardinals carried a 51-30 lead into the halftime break.
Saginaw Valley would grow the lead to 31 points at 76-45 with 11:21 remaining in the second half after Mike Wells made good on a pair of free throw attempts.
The largest lead of the game for the home side would come as SVSU hit the 100-point mark, pushing 44 points ahead of the Tigers at 100-56 with 2:34 to play when Malik Garner cut through the lane for a layup. The final score would be 104-65, with the Cardinals moving to 5-0 on the season.
Copyright Saginaw Valley State 2016. All rights reserved.