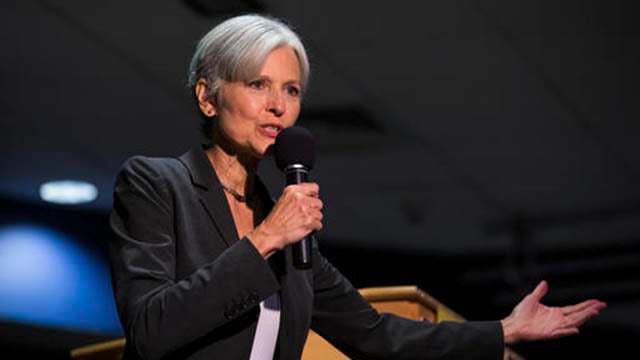 Source: AP Graphics
LANSING, MI (AP) -
Green Party presidential nominee Jill Stein has requested a full hand recount of Michigan's presidential vote.
Stein requested the recount on Wednesday. She had already requested recounts in Pennsylvania and Wisconsin.
Republican Donald Trump won all three states. He defeated Democrat Hillary Clinton in Michigan by 10,704 votes out of nearly 4.8 million ballots cast. Stein alleges that irregularities and the potential for hacking into scanning devices call into question the results.
The Michigan recount could start as early as Friday.
Trump's victory is highly unlikely to be reversed in any of the states. But Stein says the recount will ensure the integrity of the election.
Republicans say the recount will cost taxpayers far more than the $973,000 Stein must pay when filing her recount petition.
Secretary of State Ruth Johnson today issued the following statement regarding the request that was received today from Green Party presidential nominee Jill Stein:
"It is unusual that a candidate who received just 1 percent of the vote is seeking a recount, especially when there is no evidence of hacking or fraud, or even a credible allegation of any tampering. The cost of this recount to Michigan taxpayers could easily reach into the millions of dollars. Based on Wisconsin's estimate, Michigan taxpayers could be paying $4 million despite the $1 million the Green Party nominee must pay to have the recount. Nevertheless, county clerks have been gearing up to complete this recount under a very challenging deadline. They'll be working nights and weekends. I know they will do a great job because we have some of the best clerks in the country here in Michigan."
---
Copyright 2016 Associated Press. All rights reserved.