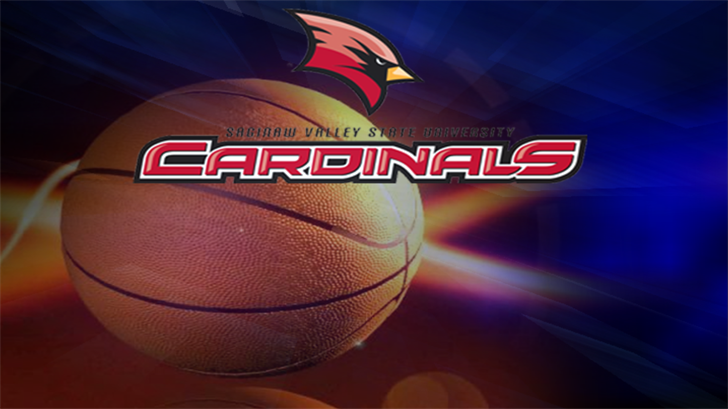 UNIVERSITY CENTER, Mich. - Hosting Ohio Dominican University on Sunday (Dec. 18) night, the SVSU women's basketball team came out victorious for the second consecutive game, coming back from a 35-31 halftime deficit with a strong second half to claim a 76-66 win over the Panthers.
The home squad jumped out to a 5-0 lead in the contest, using a three-point play from Emily Wendling and a layup from Abby Duffy. The team's lead would grow to as much as eight points at the 4:18 with the scoreboard showing 10-2 after Mariah Cook hit a three-pointer. After Tiffin worked its way back to tie the score at 12-12 and take a 13-12 lead, a triple from Katelyn Carriere gave the Cards a 15-13 edge at the end of the first quarter.
The second quarter featured five lead changes and a pair of ties, with neither team gaining more than a four point lead in the frame. The Cardinals led by as many as four points twice and used buckets from Carriere on two different occasions, as she helped the team re-gain the lead with the score 21-10 and 31-30. The 31-30 count came with 1:21 to go in the first half, which was met with a triple and layup to close-out the half from the Panthers, who carried a 35-31 edge into the locker room.
Ohio Dominican held its largest lead of the afternoon at six points with the score 39-33 early in the third quarter. The Cardinals would then work their way back and get the lead back, using a layup and three-point play from Wendling to take the leads at 42-41 and 45-43, respectively. The Panthers drew to within a single point three times from there in the quarter, but a Wendling jumper and good free throw from Francesca Coury gave the home team a four point lead with the score 52-48 after the quarter expired.
The first double-digit lead of the game came with the score 70-60 after Carriere drilled eight consecutive free throws, the last pair coming with just 1:05 to play in the game. SVSU's largest lead of 14 points came after two Wendling freebies to make the score 76-62 with 35 seconds to play. The Panthers got two baskets the remainder of the way, sending the game score to a final with a 10-point advantage for the Cards, 76-66.
Copyright WNEM Meredith Corp. 2016. All rights reserved.