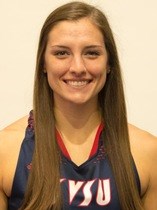 BAY CITY, Mich. - SVSU women's basketball senior guard Katelyn Carriere has been selected as the GLIAC North Division Women's Basketball Player of the Week after leading the Cardinals to a pair of key GLIAC North victories over Northern Michigan and Michigan Tech.
Carriere had a big weekend in helping lead the Cardinals to a pair of big victories to open GLIAC North Division play. She averaged 22.0 ppg, 5.0 steals per contest and 5.0 assists per game. She added three boards per contest as well. In Thursday's win over Northern Michigan, she had 19 points, three boards, five assists and a career-high five steals. She then matched season-highs with 25 points and eight assists, adding three rebounds and a block in Saturday's victory over Michigan Tech. She committed just a single turnover while averaging 36 minutes per game at the point guard position.
Saginaw Valley remains atop the GLIAC North Division Standings after the wins this past weekend. The Cards host Ferris State on Thursday night at 6:00 p.m. before traveling to play at Grand Valley State on Saturday. Saturday's game will feature a noon start time and be broadcasted nationally on the American Sports Network.
Copyright Saginaw Valley State 2017. All rights reserved.