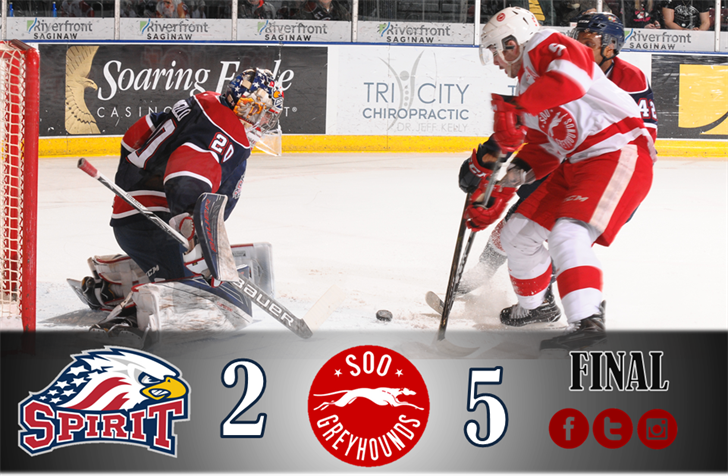 SAGINAW, Mich. – On Wednesday, the Saginaw Spirit and the Sault Ste. Marie Greyhounds convened for their fifth of eight meetings this season. The Spirit generated little offense in the final 40 minutes of the game, resulting in the 'Hounds taking a 5-2 decision over the Spirit.
In the first period, both teams had equal shots on goal as they kept the play between both zones. 58 seconds into the game, Brady Gilmour carried the puck up to the net from the right circle and roofed it over Matthew Villalta to earn his 20th goal of the season. D.J. Busdeker and Cole Coskey assisted with the set up in the left circle for the Spirit's first tally of the game. The Greyhounds' Conor Timmins brought the puck out of the Soo zone and passed to Bobby MacIntyre in the neutral zone. MacIntyre carried it up to the left and backhanded it between the pads of Brendan Bonello to tie the game at 5:45 of the period. Shots on goal were tied at 10 apiece and the game was tied at 1-1.
In the second period, the Greyhounds became more aggressive and took the lead. Hayden Verbeek backhanded the puck to Tim Gettinger, who shot it into Brendan Bonello's chest. Bonello thought he had stopped the puck but it rolled out of his glove to his left and David Miller swooped in to put it in the back of the net. Miller earned his 20th goal of the season to give the Greyhounds the lead. Conor Timmins passed the puck to Morgan Frost at the left circle who scored with a wrist shot. Jack Kopacka also assisted on the play at 16:11 of the period that earned Frost his 15th goal of the season. The shots on goal in the second period favored the Greyhounds, 14-3 and the Greyhounds led, 3-1.
The Greyhounds kept the puck mostly in the Spirit zone during the third period. Bobby MacIntyre carried the puck into the Spirit zone and scored his second goal of the game on Brendan Bonello's 5-hole at 9:01 of the period. Gianluca Fuco earned his second goal of the season on a breakaway at 17:58 of the period to cut the Soo lead to 4-2. At 19:51, Blake Speers earned his sixth goal of the season with an assist to Bobby MacIntyre. The final shots on goal favored the Greyhounds 36-24 and the Greyhounds had a 5-2 decision over the Spirit.
Applebee's Three Stars of the Game:
Bobby MacIntyre (SSM) – 2G, A

Morgan Frost (SSM) – G, A

Conor Timmins (SSM) – 2A
The Saginaw Spirit return to The Dow Event Center on Saturday, February 4 to battle the London Knights. The puck drops at 7:05 p.m. for the annual Shocks and Saves Charity Game, which will be held at 4:30 p.m.
Copyright Saginaw Spirit 2017. All rights reserved.