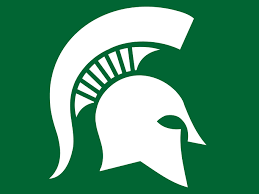 LINCOLN, Neb. (AP) -- Miles Bridges scored 16 points to lead five Michigan State players in double figures, and Michigan State shot 63 percent in the second half to pull away from Nebraska for a 72-61 victory on Thursday night. The Spartans (14-9, 6-4 Big Ten), who beat Michigan on Sunday, won consecutive games for the first time since December and ended a three-game losing streak against the Cornhuskers (10-12, 4-6).
Michigan State's bench outscored Nebraska's 31-9, with Alvin Ellis III scoring 11 points and Nick Ward and Cassius Winston adding 10 apiece. Kenny Goins also had 10 points.
Tai Webster had 18 points, Jordy Tschimanga added a season-high 15 points and nine rebounds and Glynn Watson Jr. scored 13 points.
Michigan State made eight of its first 10 3-pointers in the second half and finished 11 of 17. Ellis and Joshua Langford made three 3s apiece. The Spartans took the lead 7 minutes into the game and were ahead by single digits until Winston's 3-pointer made it 50-38 with 13:50 left. They led by as much as 20.
Michigan State held Nebraska to three points and no field goals over the last 3:54 of the half and led 32-26 at the break. Cleveland Cavaliers coach Tyronn Lue was at Pinnacle Bank Arena to have his Huskers jersey retired during a halftime ceremony. He played at Nebraska from 1995-98.
Copyright 2017 Associated Press. All Rights Reserved.