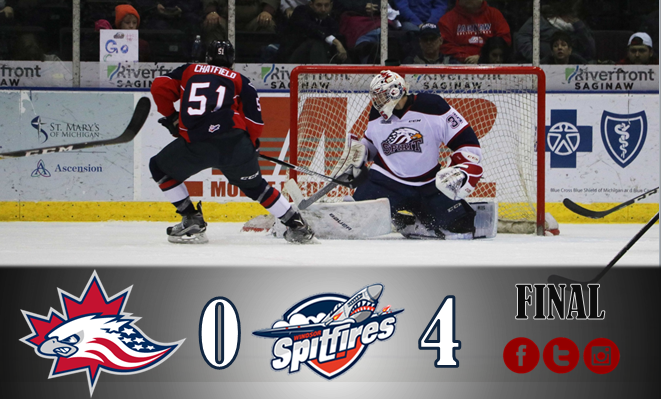 WINDSOR, Ont. – On Thursday night, the Saginaw Spirit and the Windsor Spitfires faced off from the WFCU Centre. The Spirit won the previous game against the Spitfires, 3-2, at The Dow Event Center. However, the offense couldn't click on the road and Saginaw fell to Windsor, 4-0.
In the opening period, the Spitfires scored two goals to take a 2-0 lead. Cristiano DiGiacinto scored his 10th goal of the year at 7:23 when he deflected a shot from Mikhail Sergachev. Sergachev gathered the puck at the blue line after Gabriel Vilardi won a faceoff from the left circle. Tyler Angle tallied his first career OHL goal at 10:50. Maddux Rychel forced a turnover in the Saginaw zone, and Angle found himself alone with Spirit goaltender Evan Cormier. He skated towards the net, and fired the puck over Cormier's left shoulder. Later on, a goal was disallowed for the Spitfires. However, Cormier was pulled from the game and Brendan Bonello was put into the net. Despite the goals, Saginaw led Windsor in shots on goal, 9-6.
The second period only produced one goal. For 19 minutes and 22 seconds neither team could put the puck into the net. Adam Laishram ended the drought when he tapped in a rebound from a Tyler Nother shot to give Windsor a 3-0 lead. The Spitfires had a power play opportunity, but the league's second-best attack was denied by the Spirit. Windsor led Saginaw in shots on goal, 13-4.
The third period was more of the same, production-wise. Only one goal was tallied, and it was by the Spitfires. New York Rangers prospect Sean Day scored his 13th goal of the season after he took the puck from coast-to-coast for the 4-0 lead. He corralled a rebound in the Windsor zone at the left circle and took off down the ice. He made a diagonal path toward the left circle of the Saginaw zone, making move after move with the puck. Once he reached the top of the circle, he let off a shot that snuck through Bonello's legs. The goaltender didn't have a chance at the puck due to being screened by multiple defensemen. Windsor led the final shots on goal tally, 26-22.
Copyright Saginaw Spirit 2017. All rights reserved.