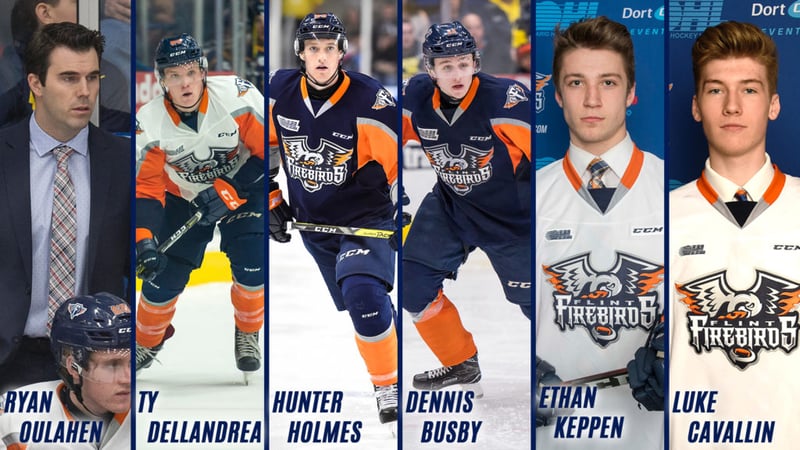 Calgary, Alta. – Hockey Canada will assemble the nation's best men's, women's, and sledge team prospects for its annual National Teams' Summer Showcase, a series of development and selection camps that kick off the 2017-18 season. An impressive seven Flint Firebirds personnel were invited to attend various Hockey Canada events throughout the 2017 season.

Flint Firebirds' Ryan Oulahen was chosen as one of three Head Coach's at Canada's National Under-17 Development Camp in Calgary, Alta., beginning Jul. 26 to Aug. 2 and at the 2017 World Under-17 Hockey Challenge in Dawson Creek and Fort St. John, B.C. Nov. 5-11. Firebirds' General Manager Barclay Branch was tabbed as the Ontario scout. Ethan Keppen and Luke Cavallin, who both recently committed to the Firebirds' organization for the upcoming 2017-18 season, have been invited to the National Under-17 Development Camp with the ultimate goal of representing Canada at the 2017 World Under-17 Hockey Challenge in November.

Firebirds' Dennis Busby, Ty Dellandrea and Hunter Holmes are among the top-44 Canadian players invited to attend Hockey Canada's Under-18 Summer Selection Camp for Canada's National Men's Summer Under-18 Team that will compete at the 2017 Ivan Hilinka Memorial Cup in Breclav, Czech Republic and Bratislava, Slovakia in August.
Copyright Flint Firebirds 2017. All rights reserved.