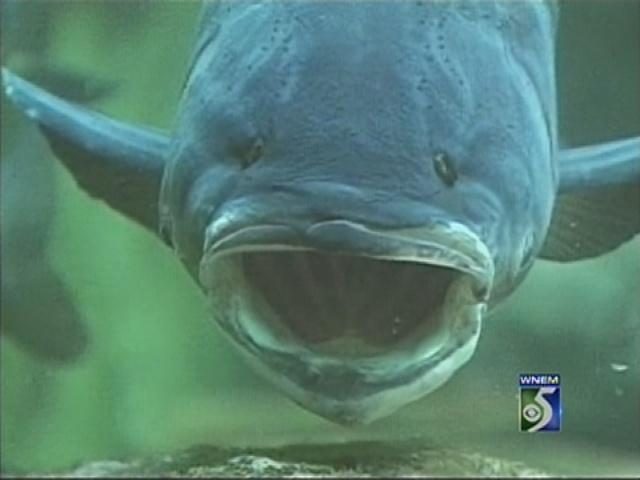 TRAVERSE CITY, MI (AP) -
A live Asian carp has been discovered in a Chicago waterway about nine miles from Lake Michigan.
Federal and state officials tell The Associated Press a commercial fisherman netted the silver carp below the T.J. O'Brien Lock and Dam.
The fish was 28 inches long and weighed about 8 pounds.
Silver carp are among four Asian carp species threatening to invade the Great Lakes, where scientists say they could compete with native species and devastate the region's $7 billion fishing industry.
This is the second time a live Asian carp has turned up beyond an electric barrier network 37 miles southwest of the city that's designed to keep the invasive fish from reaching the lakes. A bighead carp was found in Chicago's Lake Calumet in 2010.
Congressman John Moolenaar released the following statement:
"The finding of Asian carp less than ten miles from Lake Michigan is another alarm bell for action to protect the Great Lakes ecosystem from this invasive species. There is an urgent need for the Army Corps of Engineers to release the Brandon Road Lock and Dam report so further steps can be taken to stop Asian carp from entering the Great Lakes."
U.S. Senator Debbie Stabenow, Co-Chair of the Great Lakes Task Force, released a statement :
"Today's news is a wakeup call. It is deeply alarming that a live Silver carp was found only nine miles from Lake Michigan. While I'm glad the emergency protocols I helped create through legislation in 2015 played a role in this detection, the fact remains that we need a permanent solution at Brandon Road. We need to know how the Silver carp came so close to Lake Michigan and whether there are any additional carp in the area."
Copyright 2017 Associated Press. All rights reserved.