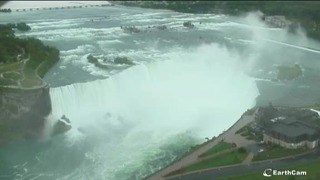 Source: CNN
NIAGARA FALLS, N.Y. (AP) -
The late Niagara Falls daredevil Kirk Jones may have brought a boa constrictor along on his ill-fated attempt to go over the falls in an inflatable ball.
The Niagara Gazette reports Wednesday that New York State Park Police found a website with a photo of Jones and the 7-foot snake previewing Jones' plans. An unoccupied large plastic ball he apparently planned to ride over the falls was found empty below the falls on April 19.
Jones' body was recovered June 2. There's been no sign of the snake. Exotic pet experts told police it wouldn't have survived the cold water.
The newspaper says footage from a crashed drone belonging to Jones is no help, showing only rushing water.
Jones survived an apparent suicide attempt over the falls in 2003.
Copyright 2017 The Associated Press. All rights reserved.