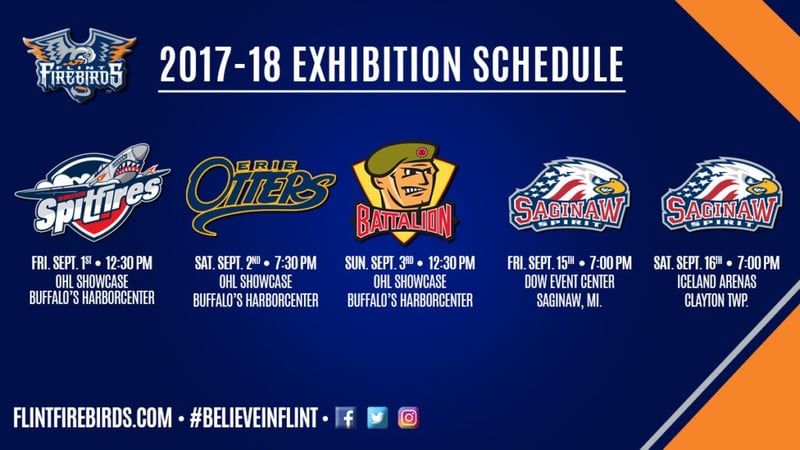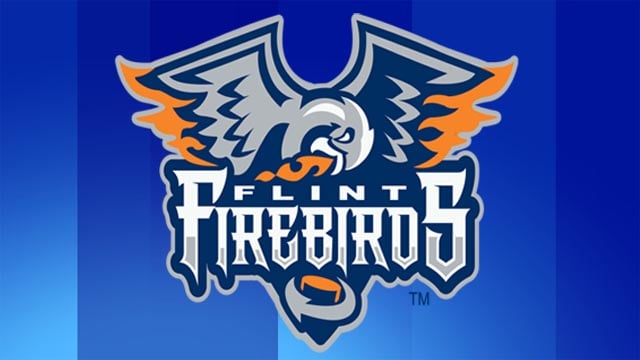 Source: Flint Firebirds
Flint, Mich. - The Flint Firebirds, in conjunction with the Ontario Hockey League (OHL), have announced their schedule for the 2017 Exhibition Season.

The Firebirds will play five exhibition games before the 2017-18 regular season, including a home-and-home series with in-state rival Saginaw Spirit. Flint will travel to Saginaw for a Friday, Sep. 15 contest at the Dow Event Center at 7 p.m. before hosting the Spirit on Saturday, Sep. 16 at the Firebirds' official practice facility, Iceland Arenas on Elms Rd. in Clayton Township, also at 7 p.m.

Tickets for the Firebirds' exhibition game at Iceland Arenas are complimentary to Firebirds' season ticket holders and sponsors. Fans can purchase single game tickets beginning Sept. 8 at 10 a.m. for $10 dollars at the Dort Federal Event Center Box Office, Monday through Friday from 9 a.m. to 5 p.m. (ET), online at ticketmaster.com or by contacting Kevin Mays, Director of Ticket Sales at (810) 201-6903 or kevin@flintfirebirds.com.

The Firebirds will also take part in the inaugural 'HarborCenter OHL Showcase' Sep. 1-3, 2017, featuring six OHL teams and three games each during the Labor Day weekend at the Buffalo Sabres' practice facility. Along with the Firebirds, the host Erie Otters, Kitchener Rangers, North Bay Battalion, Peterborough Petes and Windsor Spitfires will attend the 'HarborCenter OHL Showcase.' The HarborCenter arena has been the three-year host of the NHL Scouting Combine and will also host the 2018 IIHF World Junior Championship.

Flint Firebirds 2017 Exhibition Schedule

Day

Date

Away

Home

Time

Location

Friday

Sept. 1

Flint

Windsor

12:30p

HarborCenter Buffalo, NY

Saturday

Sept. 2

Flint

Erie

7:30p

HarborCenter Buffalo, NY

Sunday

Sept. 3

Flint

North Bay

12:30p

HarborCenter Buffalo, NY

Friday

Sept. 15

Flint

Saginaw

7:00p

Dow Event Center Saginaw, MI

Saturday

Sept. 16

Saginaw

Flint

7:00p

Iceland Arenas Clayton Twp, MI

Copyright Flint Firebirds 2017. All rights reserved.