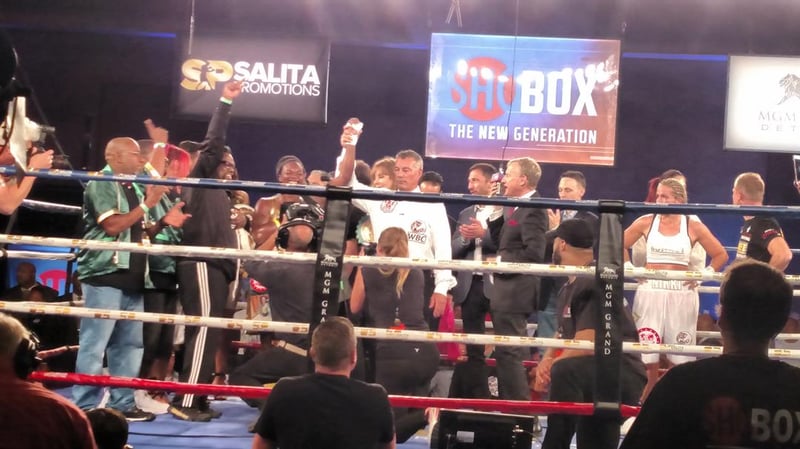 DETROIT (AP) -- Claressa Shields pummeled Nikki Adler on Friday night in a matchup of previously unbeaten boxers, giving the two-time Olympic champion the Women's WBC and IBF Super Middleweight world titles.
The fight was mercifully stopped at 1:34 of the fifth round to give Shields a victory by technical knockout after she used a combination of powerful punches to leave Adler defenseless.
The 22-year-old Shields took control against the 30-year-old Adler in the opening round, landing a flurry of blows that sent her staggering against the ropes.
Shields (4-0, 2 KOs) didn't let up in the second, stunning Adler (16-1) with a left hook midway through the round. Shields went to her body in the third round before aiming high in the fourth, hitting Adler squarely in the face with a right that seemed to set up the end of the fight in the fifth.
WBO and WBC middleweight champion Christina Hammer watched the bout near the ring, scouting potential opponents and rooting against her fellow German.
"I hope to fight Claressa next year," Hammer said, wearing a gold dress and displaying her championship belts in an empty seat next to her.
Hammer got her wish and some advice from Shields as both stood near each other during post-fight interviews in the ring.
"She better keep her hands up," Shields said.
Adler tried that and putting her white gloves in front of her face was no match for Shields' shots to her head.
The nearly 1,000 fans who filled a ballroom at the MGM Grand Detroit loved it, cheering for a fighter from Flint, Michigan, who seemed to have a lot of supporters that made the hour-long drive from her hometown.
Copyright Associated Press 2017. All rights reserved.