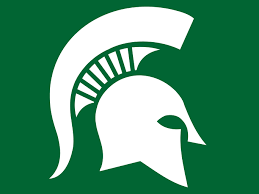 EAST LANSING, Mich. (AP) -- Brian Lewerke scored on a 61-yard run in the first quarter, and Michigan State's defense was impressive for a second straight week in a 28-14 victory over Western Michigan on Saturday.
Lewerke added another touchdown on a quarterback sneak and also threw for a TD on a day when the Spartans (2-0) didn't need to do much offensively. Michigan State has allowed only three touchdowns in two games this year. Two of them came on fumble returns and the other on a kickoff return.
The Broncos (0-2) looked like a dangerous opponent after rushing for 263 yards in a season-opening loss to Southern California, but the Spartans contained WMU's running backs. The only touchdowns for the Broncos came courtesy of Darius Phillips, on a 67-yard fumble return in the third and a 100-yard kick return in the fourth.
Lewerke opened the scoring with the longest touchdown run by a Michigan State quarterback since 1973. A fake handoff helped open up the middle of the field, and the sophomore was able to outrun the secondary for a 7-0 lead. Lewerke threw a 15-yard scoring pass to LJ Scott in the second quarter.
Phillips ripped the ball away from Hunter Rison and ran it all the way back to the end zone to make it 14-7, but Michigan State responded with a 75-yard scoring drive that included a 46-yard run by Darrell Stewart and Lewerke's 1-yard touchdown.
Scott scored on a 2-yard run in the fourth, but Phillips took the ensuing kickoff all the way back to make it 28-14.
The last time a Michigan State quarterback had a longer scoring run than Lewerke's was in 1973, when Charlie Baggett had a 69-yarder against Purdue.
Copyright 2017 Associated Press. All Rights Reserved.