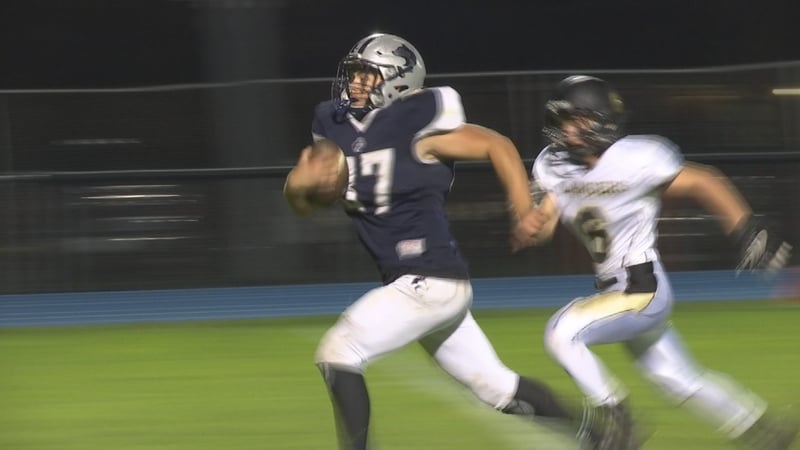 (Source: WNEM)
Friday night marked the last games of regular season high school football for Mid-Michigan.
Several teams clinched a playoff spot during their last game by finishing 6-3.
Any team with at least six wins advances to playoffs. If there are not enough 6-3 teams then 5-4 teams will be chosen to fill the spots based on playoff points.
The following Mid-Michigan teams advanced to playoffs:
Alma
Bangor John Glenn
Bay City Central
Beaverton
Breckenridge
Bridgeport
Byron
Carrollton
Cass City
Clare
Davison
Elkton-Pigeon-Bay Port Lakers
Fenton
Flint Carman-Ainsworth
Flint Hamady
Flint Powers
Flushing
Frankenmuth
Freeland
Fulton-Middleton
Goodrich
Grand Blanc
Harbor Beach
Harrison
Hemlock
Houghton Lake
Ithaca
Lake City
Lake Fenton
Lapeer
Lincoln Alcona
Linden
Midland
Midland Dow
Millington
Montrose
Mt. Pleasant Sacred Heart
New Lothrop
Ortonville-Brandon
Oscoda
Ovid-Elsie
Pinckney
Saginaw Nouvel
Saginaw Swan Valley
St. Louis
Ubly
USA
The following 8-man teams in Mid-Michigan advanced to playoffs:
Bay City All Saints
Deckerville
Flint International Academy
Kinde-North Huron
Kingston
Mayville
Peck
Playoffs start Oct. 27.
For a complete list of rankings click here.
Copyright 2017 WNEM (Meredith Corporation). All rights reserved.