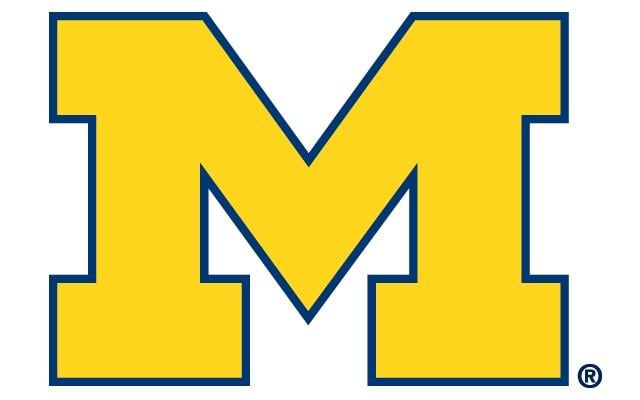 University of Michigan logo
ANN ARBOR, Mich. (AP) -- Duncan Robinson scored 21 points, and Michigan turned back upset-minded North Florida 86-66 on Saturday night. Charles Matthews added 20 points for the Wolverines, who actually trailed 47-46 before pulling away in the latter part of the second half. Moe Wagner had 18 points and 12 rebounds for Michigan (1-0), which had to withstand some impressive 3-point shooting by the Ospreys.
North Florida (0-2) was playing its second game in two nights after losing 98-66 at No. 2 Michigan State on Friday.
The Ospreys led 18-11 at the midway point of the first half, and although Michigan was up 32-30 at halftime, it was an uneven performance for the team that won last season's Big Ten Tournament. The Wolverines had to replace Derrick Walton, Zak Irvin and D.J. Wilson off that team.
Michigan led 52-51 before a 21-2 run highlighted by Robinson's dunk in transition.
Garrett Sams led North Florida with 17 points. The Ospreys went 9 of 15 from beyond the arc.
Copyright 2017 Associated Press. All Rights Reserved.