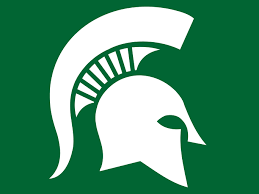 EAST LANSING, Mich. (AP) -- Miles Bridges, Nick Ward and Jaren Jackson each scored 17 points to help No. 3 Michigan State beat Southern Utah 88-63 on Saturday night.
The Spartans (9-1) have won eight straight by double digits since losing to top-ranked Duke, which lost earlier in the day to Boston College.
The Thunderbirds (5-4) had won three straight. They kept it relatively close at the Breslin Center for a while, trailing by just five points midway through the second half.
Michigan State's balanced team took control with a 21-7 run to take a 79-60 lead with 4:45 left.
The Spartans' entire starting lineup is averaging in double figures and only one player didn't reach his average on Saturday with Josh Langford being limited to seven points.
Jackson had 13 rebounds and five blocks. Bridges had 11 rebounds and six assists.
Southern Utah's Dre Marin, Jacob Calloway and Jadon Cohee scored 12 points apiece and Ivan Madunic added 10 points.
Copyright 2017 Associated Press. All Rights Reserved.