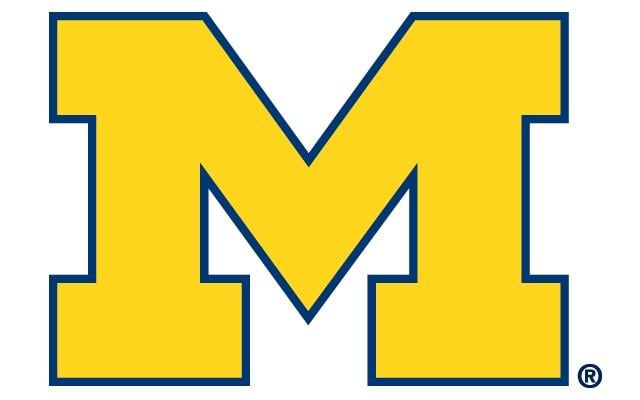 University of Michigan logo
ANN ARBOR, Mich. (AP) -- Moe Wagner scored 16 points and Duncan Robinson added 12 to lift No. 23 Michigan to a 62-47 victory over Rutgers on Sunday. The Wolverines (17-5, 6-3 Big Ten) rebounded from a 20-point loss at Nebraska on Thursday, taking the lead for good with a 13-0 run in the first half. Both teams shot well under 50 percent from the field, but this Michigan team is more capable of winning with defense than in the past.
Corey Sanders scored 12 point for Rutgers, and Deshawn Freeman added 11 points and 11 rebounds. Freeman also had the only assist of the game for Rutgers, which finished with 13 turnovers.
Robinson came in shooting only 36 percent from 3-point range on the season after finishing over 40 percent in his first two seasons with the Wolverines. He went 4 of 8 from beyond the arc Sunday, playing crucial first-half minutes after Isaiah Livers was called for two quick fouls.
Zavier Simpson had 10 points, eight rebounds and four assists for Michigan, and Charles Matthews added 10 points.
Copyright 2018 Associated Press. All Rights Reserved.