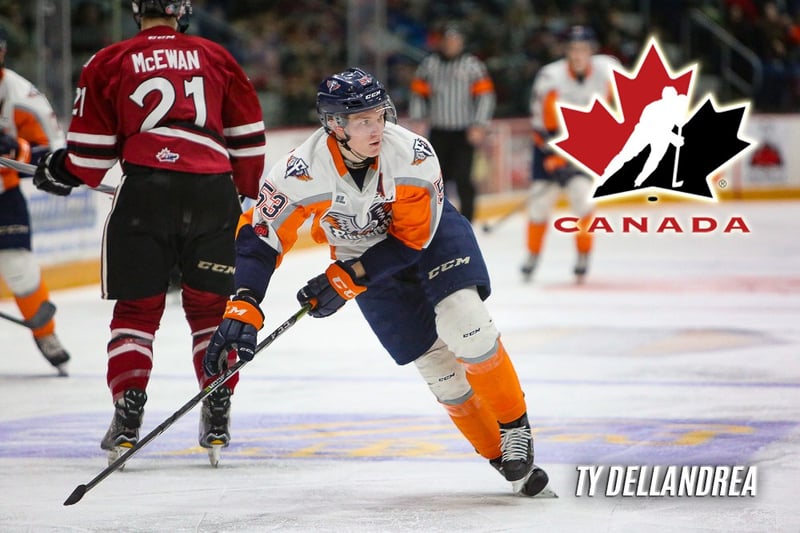 CALGARY, Alta. – Canada's National Men's Under-18 Team will begin to assemble in Etobicoke, Ont., next week before flying to Russia for two pre-tournament games leading up to the 2018 IIHF U18 World Championship, Apr. 19-29 in Chelyabinsk and Magnitogorsk, Russia. Flint Firebirds forward Ty Dellandrea is among the 21 players invited to training camp.

"We would like to extend our congratulations to Ty for being selected to play for Team Canada in the upcoming IIHF World Under 18 Championships," said Flint Firebirds Vice President of Hockey Operations & General Manager Barclay Branch. "This honor is a reflection of Ty's hard work, dedication and commitment to being an elite athlete and person, and we wish him the best of luck at the event."

Dellandrea finished second on the Firebirds' roster with 59 points (27G, 32A) in 67 games throughout the 2017-18 season.

Last year, Dellandrea was one of just three under-aged players to be selected for Canada's Men's U-18 National Team for the 2017 IIHF U18 World Championship in Poprad and Spisska Nova Ves, Slovakia. He was also among those on the National Men's Summer Under-18 Team that claimed gold at the Ivan Hlinka Memorial Cup in August.

Hockey Canada has announced that the following 21 players will join the team for training camp:
Goaltenders Colten Ellis (Port Hawkesbury, N.S./Rimouski, QMJHL), Nolan Maier (Yorkton, Sask./Saskatoon, WHL), and Kevin Mandolese (Blainville, Que./Cape Breton, QMJHL)

Defencemen Kevin Bahl (Mississauga, Ont./Ottawa, OHL), Bowen Byram (Cranbrook, B.C./Vancouver, WHL), Ryan Merkley (Mississauga, Ont./Guelph, OHL), Matthew Robertson (Sherwood Park, Alta./Edmonton, WHL), Ty Smith (Lloydminster, Alta./Spokane, WHL), and Jonathan Tychonick (Calgary, Alta./Penticton, BCHL)

Forwards Graeme Clarke (Ottawa, Ont./Ottawa, OHL), Kirby Dach (Fort Saskatchewan, Alta./Saskatoon, WHL), Ty Dellandrea (Port Perry, Ont./Flint, OHL), Cole Fonstad (Estevan, Sask./Prince Albert, WHL), Liam Foudy (Scarborough, Ont./London, OHL), Cameron Hillis (Oshawa, Ont./Guelph, OHL), Peyton Krebs (Okotoks, Alta./Kootenay, WHL), Alexis Lafrenière (Saint-Eustache, Que./Rimouski, QMJHL), Jack McBain (Toronto, Ont./Toronto, OJHL), Allan McShane (Collingwood, Ont./Oshawa, OHL), Serron Noel (Ottawa, Ont./Oshawa, OHL), and Chase Wouters (Lloydminster, Sask./Saskatoon, WHL)
"The initial list of Canadians for the 2018 IIHF U18 World Championship contains a well-balanced group of players and strong foundation of international experience," said Brad McEwen, Hockey Canada's head scout. "Fans can expect a combination of skill, size, and speed when this year's team begins its quest to bring home a gold medal in Russia. The players and team staff are excited for the opportunity to once again represent Canada on the world stage."
Copyright Flint Firebirds 2018. All rights reserved.