Neighboring school conducts active shooter training after Oxford massacre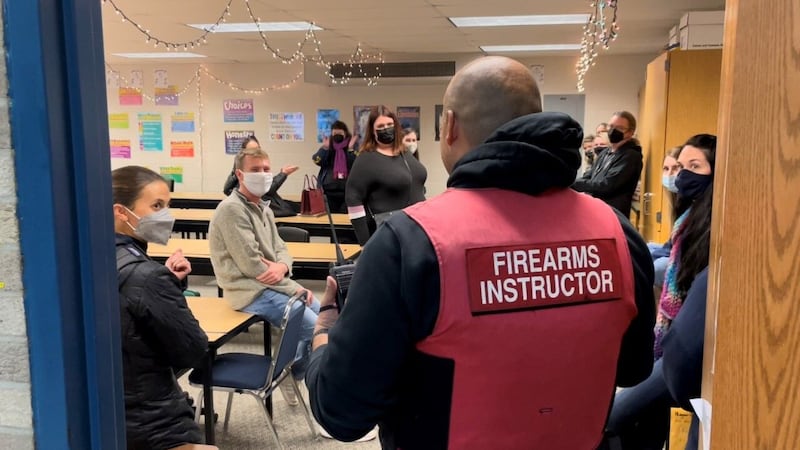 Published: Feb. 3, 2022 at 9:33 PM EST
Goodrich, Mich. (WNEM) - When Oxford High School was under attack, students went into survival mode.
"We heard initial shots, and everyone sprinted back," said Oxford H.S. sophomore Hunter Burbas.
Burbas was only feet and seconds away from the bullets flying through the halls of Oxford High School on Tuesday, November 30, 2021.
"After we shut the door, a bullet came through our door window so that freaked everyone out. We were right there when it happened," said Burbas.
Outside his classroom in the hallway, four students had been shot and killed. Several others had been injured by bullets.
"At first, I wasn't really sure how to react. I just remembered the training," said Oxford H.S. sophomore Julian Mayin.
Mayin says he relied on the several years of "ALICE Active Shooter Response Training" he and his classmates received over the years. They quickly secured the classroom door and armed themselves with scissors.
"That's one of the things that ALICE teaches, is just making sure your arm as well just in case of anything like that would happen," said Mayin.
ALICE is an acronym for: Alert, Lockdown, Inform, Counter, Evacuate. This training was created after the shooting at Columbine High School in Littleton, Colorado in 1999.
ALICE training options include instruction and in-person training and have been used by mid-Michigan school districts for several years.
"Unfortunately, in today's day and age you have to be prepared," said Genesee County Sheriff's Lt. Rodolfo Lopez.
Lopez most recently conducted an interactive training with teachers and staff at Goodrich Area Schools.
Goodrich is a neighboring district to Oxford, just twenty miles away.
"We've been training here at Goodrich since 2004, before ALICE we used the method known as Run, Hide, Fight," said Lopez.
Lopez has been in law enforcement for twenty years and never thought this is where his career would've taken him.
He says a shooter has the upper hand. He says the shooter planned the attack and preys on unsuspecting victims. Lopez says how quickly staff and students react and the tools at their disposal, could mean the difference between life and death.
"You have to lock down and we want you to lock down on steroids. We want you to barricade and prevent them from coming in," said Lopez.
Lopez says the best outcome is to be able to escape if possible.
"If a shooter comes into a building and everyone evacuated and runs away as far as they can as fast as they can, then we don't have an active shooter anymore," said Lopez.
The deadly shooting at Oxford hit close to home for Goodrich Area Schools superintendent Wayne Wright. He says his district was riddled with sadness and fear following the attack.
"When you have this type of training and you do it over and over again, you're more prepared and it's not only feeling prepared for something that takes place at school, but it can be real life situation," said Wayne Wright.
Wright says safety measures like new classroom door locks were recently installed and a refresher on the ALICE training will also be conducted for students soon.
"We're not training the shooter, we're telling the shooter that we're prepared and if you come to this school district and you do anything bad, we are prepared and we're willing to do what we have to do to go home at night," said Lopez.
15-year-old student Ethan Crumbley has been charged as an adult with 24 counts, including first degree murder, in the mass shooting at Oxford High School.
ALICE Training also provides solutions for organizations of all sizes in various industries. You can learn more at: alicetraining.com.
Copyright 2022 WNEM. All rights reserved.