Accumulating snow returns Wednesday, slippery commutes possible
Published: Jan. 24, 2023 at 6:04 PM EST
SAGINAW, Mich. (WNEM) - It's been a quiet start to the week so far and we even managed a bit of sunshine today!
But things will be taking a more active turn heading into Wednesday, with a fresh round of Winter Weather Advisories issued for parts of the TV5 viewing area. Even outside of these advisory areas, everyone is expected to pick up some snowfall for tomorrow, so plan on the possibility of slippery roads at times during the day on Wednesday. For more specific info on the advisories, head to our Weather Alerts page!
This won't be snowmageddon, so no need to rush to the store, but be careful on the roads tomorrow!
This Evening & Overnight
Our weather this evening should remain on the quiet side, with just an increase in cloudiness after being gifted some sun today! But despite that increase in clouds, we'll remain dry through most, if not all of the overnight.
Winds are much lighter to this evening, so our wind chills aren't as harsh. Expect temperatures that are in the middle 30s this afternoon to fall into the upper 20s tonight, with wind chills closer to the low 20s tomorrow.
Wednesday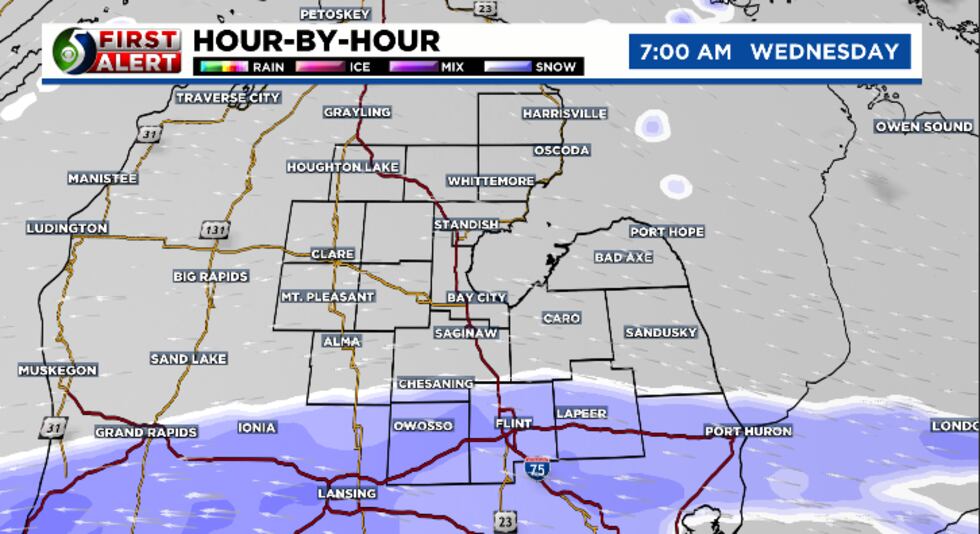 Snow is expected to move into the southern sections of the TV5 viewing area (Genesee, Lapeer, Shiawassee) between 6-8 AM on Wednesday, and then lift northward through the area the rest of the morning, covering most, if not all of the area by lunchtime.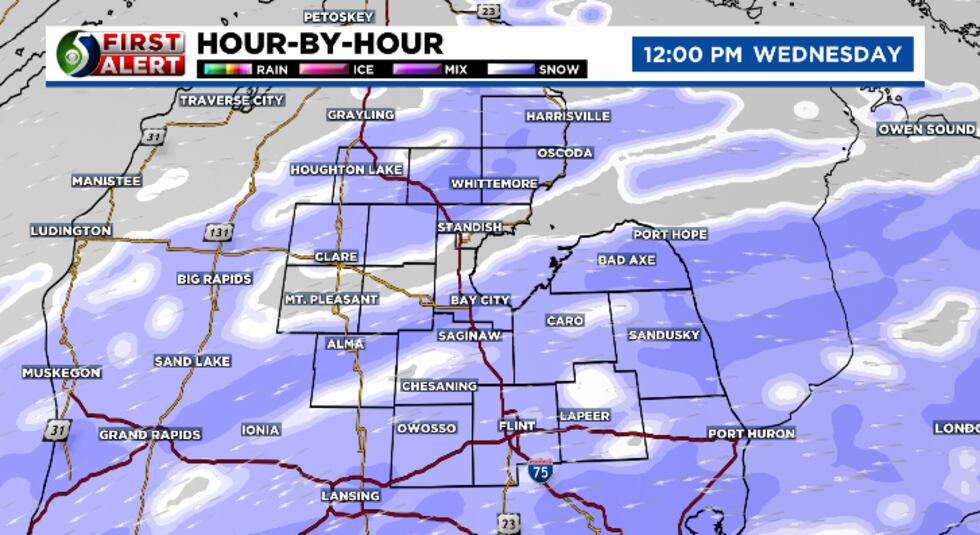 School decisions will be tricky tomorrow, as most should be able to get to school, but getting home could be a bit slower than normal. The one thing that may work in our favor, is that snow should be spread through the course of the day, which should help road crews a bit.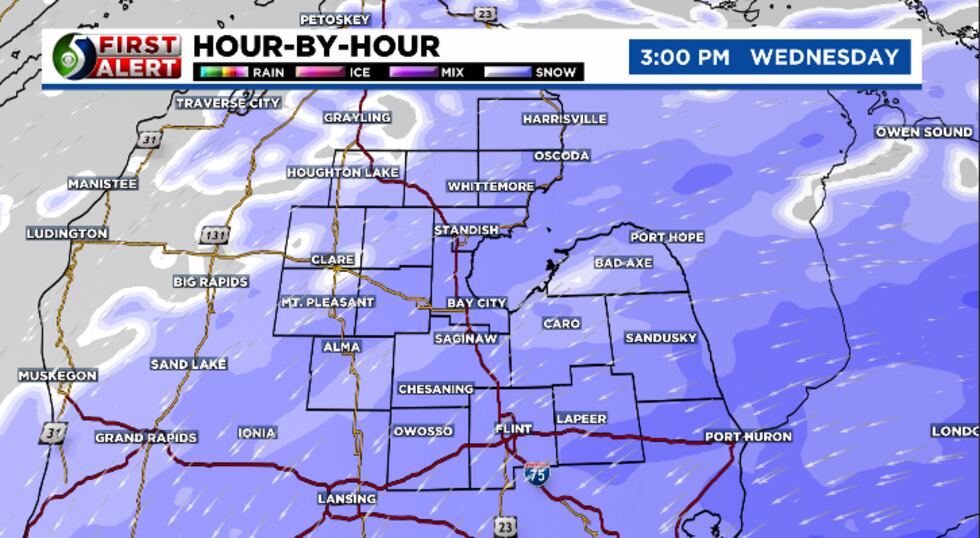 That snow is expected to become a bit heavier in the afternoon, with the heaviest snow expected between 2-6 PM for our area. There is potential for the advisory areas to see snowfall rates possibly reach or exceed 1″ per hour during that window, before snow starts becoming lighter the rest of the evening, eventually tapering off to just isolated snow showers or flurries during the overnight.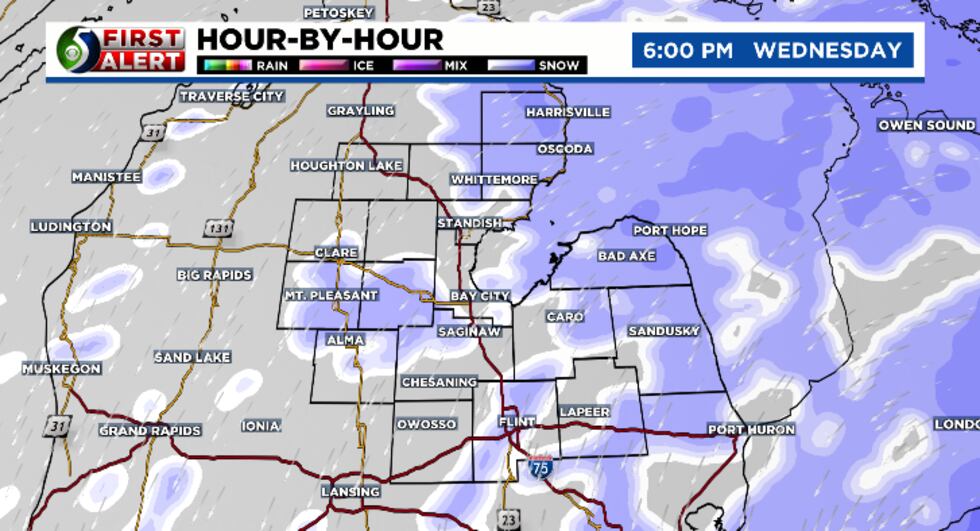 With highs expected to be around the freezing mark, snowfall should have a better chance to accumulate more efficiently than we've seen the last several weeks, especially with the persistence of snow during the day. We may see warm ground still have a slight impact, but we should see a fresh coating just about everywhere.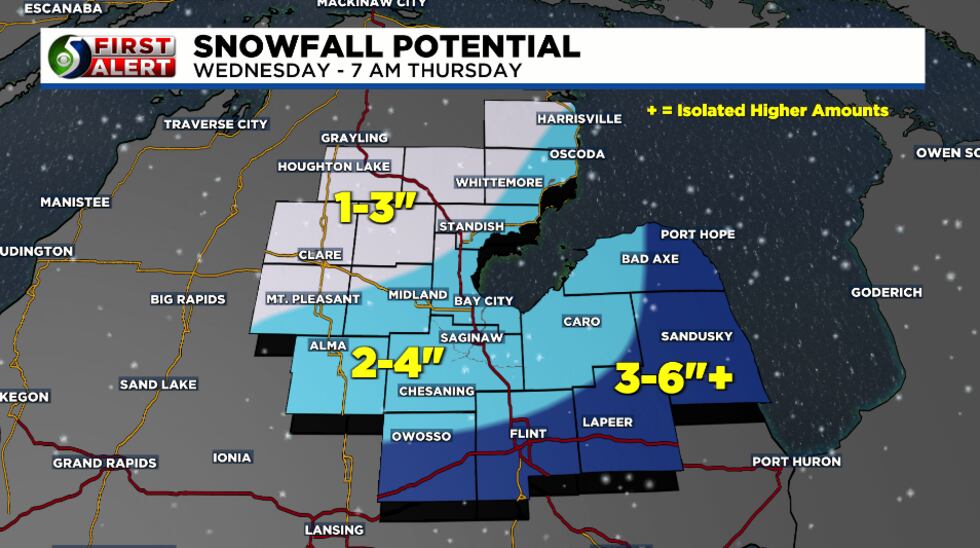 The advisory area should see the heaviest snowfall, with generally 3-6″ of snowfall expected. There is a chance if Lake Huron can enhance some of our snowfall, we may see isolated totals go slightly higher than 6″, but that would be more of the exception. Outside of the advisory, 2-4″ is expected around the Tri-Cities, Mount Pleasant, and Alma, along with areas along the shoreline north of the Saginaw Bay. Areas farther to the north and west (Clare, Roscommon, etc.) should fall between 1-3″.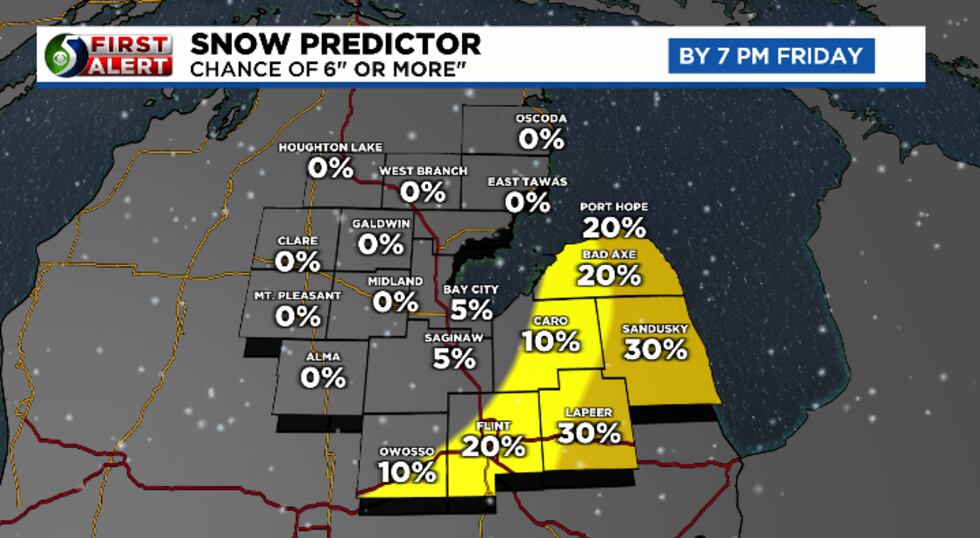 Winds aren't expected to be a significant factor for most, with a southeasterly wind becoming northeasterly through the day around 10 to 20 miles per hour. Gusts could reach 30 to 35 miles per hour in the eastern Thumb, so lower visibility and some blowing could be a bigger issue there. However, we don't expect blowing to be as much of an issue as our December blizzard conditions.
Lows on Wednesday night will fall to the lower and middle 20s, so we'll need to be mindful of slippery roads on Thursday morning.
Copyright 2023 WNEM. All rights reserved.