Community rallies around each other day after deadly mass shooting
Published: Feb. 14, 2023 at 5:42 PM EST
EAST LANSING, Mich. (WNEM) - People on Michigan State University's campus spent hours sheltered in place as local, state, and federal law enforcement agencies swept through campus to find the person responsible for the shooting on Monday, Feb. 13.
Now the East Lansing community and MSU are coming together to support each other on Tuesday in the wake of the shooting.
Related: Police ID 3 students, gunman killed in MSU shooting
TV5′s James Felton spent the day in East Lansing as the community tries to make sense of the violence.
Flowers are being left at the foot of the Sparty statue on MSU's campus and the amount of flowers has grown throughout the day. On the statue, there is a sign that says:
We are stronger than this act of hatred. We are family. Be there for each other. Rest in peace to those innocent souls. This must not define us, but it must inspire us because something has to change. We are Spartan Strong.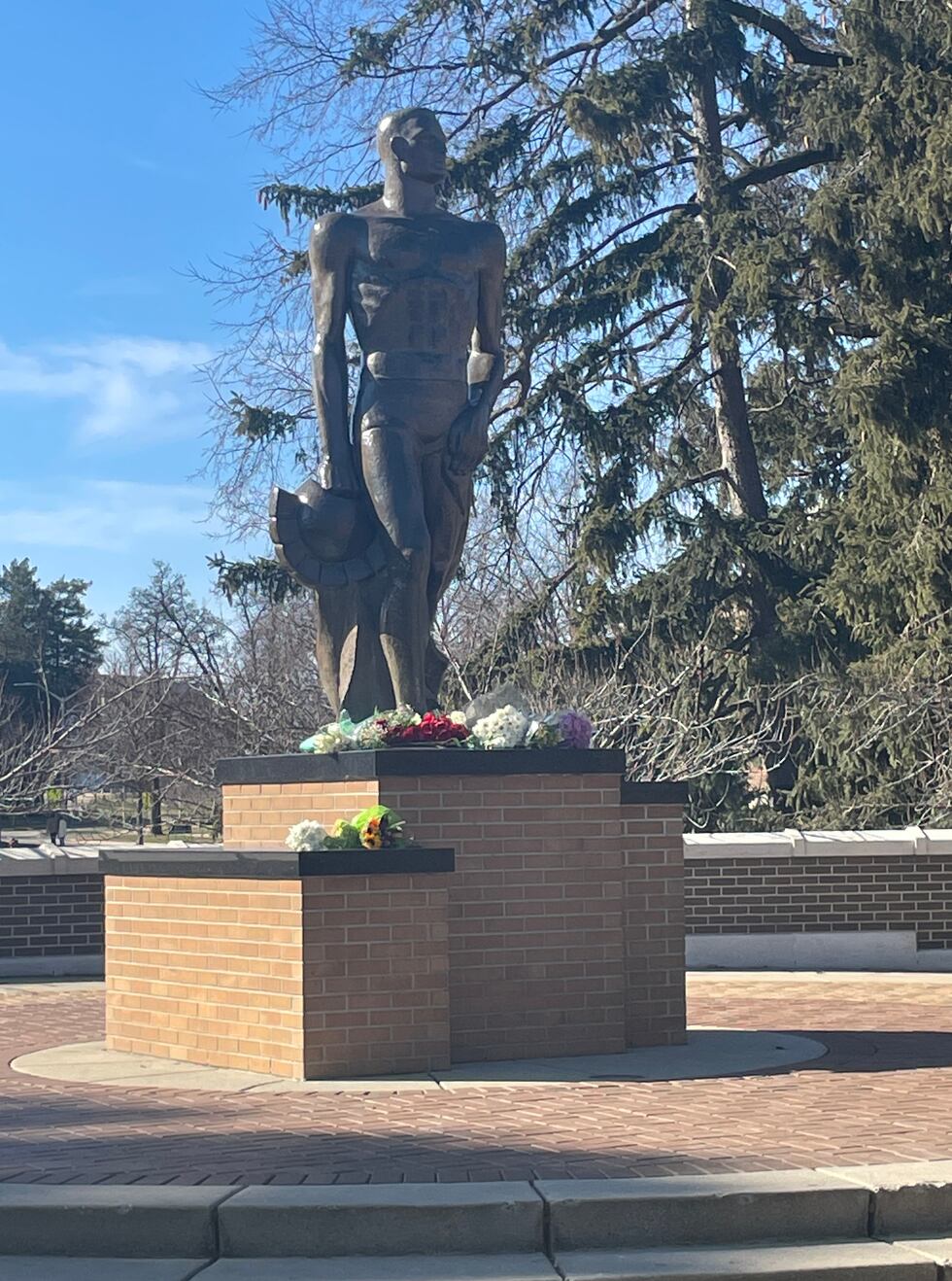 Community members spoke with TV5 to share their thoughts on this tragic turn of events last night.
"What can you do to make it better? Social media was killing me and [his service dog] didn't mind going out. So here we are," said Scott Sowulewski.
Sowulewski is an East Lansing resident who brought his service dog Pearl out to interact with Michigan State students.
"Just their eyes, you know, they just get so happy to see a dog," he said.
He does this all the time, but today is different after the tragic event that took place on Monday night.
"We live here, we see the students. I used to work as a professor on campus, or a lecturer. So the kids are the reason we're here," Sowulewski said.
The same goes for Scott Hayes, lead pastor of Element Church.
"We just wanted to come out this morning and just be here," he said.
Hayes opened the doors of the church to anyone looking for support.
"God's here and there is hope and even in the thoughtless, seemingly purposeless tragedies of life, that there's still hope," Hayes said. "And that's why we're here."
Ruth Boamah-Agyekum, a PH.D. student from Ghana, said she's glad she came to the church.
"Just being around the family of believers and people who really care and who are praying with you and supporting you and giving you hugs. Telling you this is not what we want to see in America, but we're here we're supporting anyone who needs help. And I think that's so helpful for me," she said.
And even though some of the businesses were closed today, Pot Belly was open.
"We're doing the best we can with it, a lot of our staff are students," said Gavin Parker, a graduate student and employee at Pot Belly. "At this point it's just doing what we can. It's a way to keep normalcy, I guess, for us, to keep a routine and keep it moving."
Sowulewski had a message for his fellow Spartans.
"Hang in there, it's going to get better. Talk to people, don't keep it bottled up, and find a dog," he said.
Read next:
Subscribe to the TV5 newsletter and receive the latest local news and weather straight to your email every day.
Copyright 2023 WNEM. All rights reserved.