Funerals held for victims of Michigan State campus attack
The first funerals are being held for students who were killed in this week's mass shooting at Michigan State University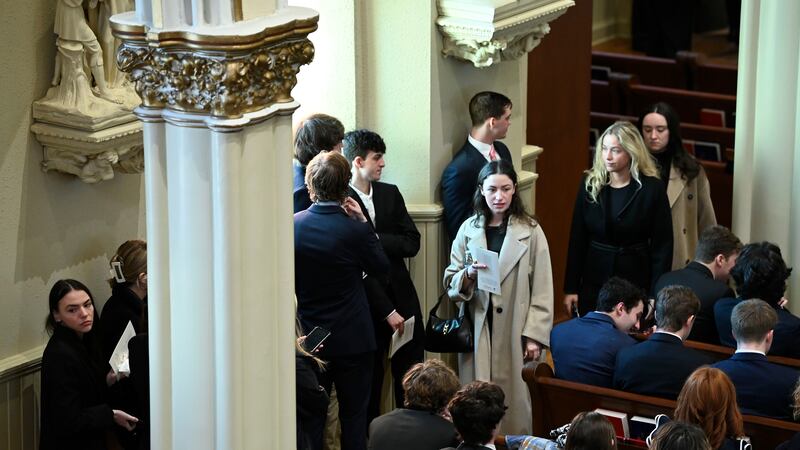 Published: Feb. 18, 2023 at 12:36 PM EST
GROSSE POINTE FARMS, Mich. (AP) — The first funerals were held Saturday for students who were killed in this week's mass shooting at Michigan State University.
Mourners in the Detroit suburb of Grosse Pointe Farms filed into St. Paul on the Lake Catholic Church to remember sophomore Brian Fraser, who was one of three students killed in Monday's attack.
At the same time, a funeral was held for Alexandra Verner at the Guardian Angels Catholic Church in Clawson, a suburb a few miles (kilometers) to the northwest.
They were among eight students who were shot in the attack at two buildings on the Michigan State campus in East Lansing, including five who were wounded but survived. A memorial service was scheduled for later Saturday for the third student killed, Arielle Anderson, whose funeral is set for next week.
Four of the wounded students remained in critical condition Friday at a Lansing hospital. The fifth victim remained hospitalized in stable condition.
Police say Anthony McRae, a 43-year-old man with no connection to the school, walked into Berkey Hall where evening classes were being held and opened fire in a classroom. He then walked to the nearby MSU Student Union and fired more shots before fleeing.
After the attack, he walked a few miles (kilometers) toward his Lansing home and said nothing before he killed himself in front of police, authorities said.
Detectives found two handguns, ammunition and a note containing a possible motive for the attack. Police said it appeared from the note that McRae felt he had been slighted in some way by people or businesses, adding that he had no connection to the victims or the school.
Fraser was a sophomore who attended Grosse Pointe South High School. He was president of Michigan State's chapter of Phi Delta Theta fraternity.
Verner was a 2020 graduate of Clawson High School. She was studying integrated biology and anthropology, according to her LinkedIn profile.
Anderson was a junior who graduated from Grosse Pointe North High School. Her family said in a statement that she was pushing to graduate early from Michigan State, hoping to become a surgeon as quickly as possible.