Battalion blank Spirit, 4-0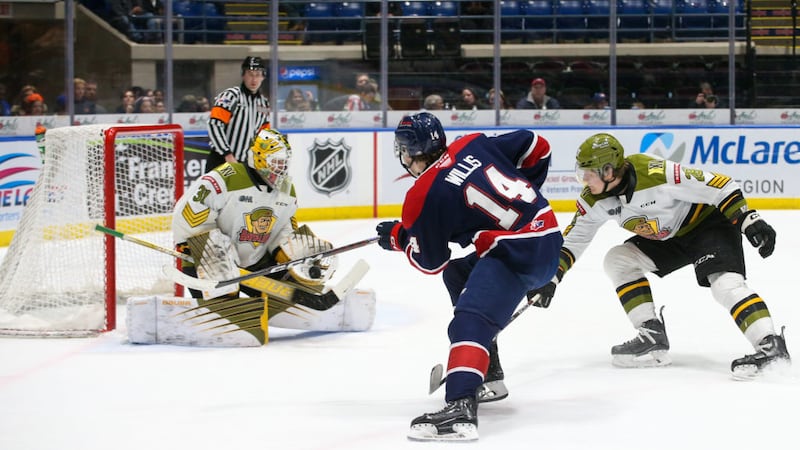 Published: Feb. 24, 2023 at 10:29 PM EST
Saginaw, Mich. – The Saginaw Spirit (30-22-2-1) lost 4-0 to the North Bay Battalion (37-15-2-1) Friday, February 24, at the Dow Event Center.
Tristan Lennox got the start for Saginaw, making 20 saves on 22 shots. Josh Bloom earned two assists while Dom DiVincentiis got his second career shutout by stopping all 33 shots faced.
The Battalion struck first at 10:58 in the first period. Kyle McDonald intercepted a pass from a Spirit player and shot the puck over Lennox's glove for his 25th of the season.
North Bay made it 2-0 at 11:21 in the first frame. Alexander Lukin passed to Josh Bloom to start the play. The Buffalo Sabres prospect got the puck to Ty Nelson, and he skated into Saginaw's zone. Lennox skated out to make the save but was deked and Nelson potted the puck for his 20th goal of the season.
North Bay went down a skater after Dalyn Wakely was called for tripping at 14:41 in the opening period. The Spirit kept the Battalion from adding to their lead by successfully killing off the penalty.
Saginaw found themselves on the penalty kill after Dean Loukus took a roughing call at 16:06 in the opening frame. The Battalion withstood several shots to keep their two-goal lead.
At the end of the first period, North Bay led 2-0 despite a 14-8 Saginaw shot advantage.
The second period started off with a pair of hooking penalties that resulted in brief four-on-four action. Neither team found the back of the net during the powerplays.
Saginaw went on the man-advantage after Pasquale Zito committed a tripping at 14:47 in the second frame. North Bay held them scoreless despite several shots.
At the end of the second period, the Battalion still held a 2-0 lead while being outshot 25-18 by the Spirit.
Both teams racked up several shots while Lennox and DiVincentiis stood strong during the majority of the third period.
With time running out, Lennox was called to the bench for an extra attacker. North Bay used the chance to score a pair of empty net goals (Romani, Wakely).
North Bay took a 4-0 victory and the second game of the season series. Saginaw held a 33-24 shot advantage, but fall to 30-22-2-1 with the loss.
Saginaw is back in action tomorrow as they host the Sarnia Sting for the second game of Ice Blast Weekend Saturday, February 25, at the Dow Event Center. Puck drop is at 7:05 p.m. and tickets are available at Ticketmaster, the Saginaw Spirit Store (6321 State Street), Dow Event Center Box Office, and by phone at (989) 497-7747.
Copyright 2023 WNEM. All rights reserved.