Saginaw continues Ice Blast Weekend by hosting Sarnia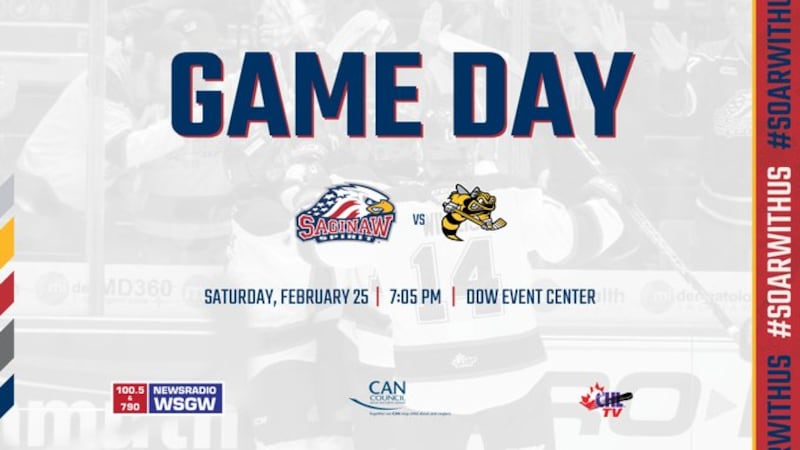 Published: Feb. 25, 2023 at 12:51 PM EST
SAGINAW, Mich. (WNEM) - The Saginaw Spirit (30-22-2-1) wrap up the Ice Blast Weekend by hosting the Sarnia Sting (29-17-5-3) Saturday, February 25, at the Dow Event Center.
Tonight's Game:
Puck drop is at 7:05 p.m.
Tonight, the festivities include a chili cook off, credit union night, and much more in the Budweiser Red Room.
Tickets:
Phone: (989) 497-7747
In-Person: Saginaw Spirit Store (6321 State St.), Dow Event Center Box Office
Broadcast:
Television: CHL TV, CHL App, OHL Action Pak Ch. 466
Radio: 100.5 FM WSGW, WSGW.com
Last Time:
Saginaw lost 4-0 to the North Bay Battalion Friday, February 24, at the Dow Event Center. Tristan Lennox got the start for the Spirit, making 20 saves on 22 shots.
Sarnia fell 4-3 in a shootout to the London Knights Friday, February 24, at the Budweiser Gardens in London, Ontario. Nolan Burke scored two goals while Christian Kyrou added a pair of helpers for the Sting.
This Season:
This is the sixth and final meeting of the regular season between these two teams. The Spirit claimed the first three games in Sarnia, but the Sting have both wins at the Dow Event Center this season. On December 3. 2022, Sarnia took a 6-3 win in Saginaw. Sasha Pastujov netted two goals and two assists while Nicholas Surzycia 32 of 35 shots for the Sting. Matyas Sapovaliv scored a goal and two assists for the Spirit. Tristan Lennox got the start for Saginaw, making 22 saves on 26 shots.
The most recent game, which was played on January 28, saw the Sting win 8-2 in Saginaw. Luca Del Bel Belluz potted two goals and an assist while Marko Sikic earned three helpers for Sarnia. Nicholas Surzycia stopped 20 of 22 shots faced for the Sting. Lincoln Moore and Matyas Sapovaliv each scored a goal for the Spirit.
Players to Watch:
Defenseman Mitchell Smith has been racking up assists as of late, earning seven helpers in his last five games for the Spirit. The Saginaw native is third in assists (31) for his team. Dean Loukus has the most assists (33) for Saginaw. Matyas Sapovaliv and Michael Misa are tied for the lead in goals (21) while Misa has the sole lead in points (50) for the Spirit. Tristan Lennox holds the best goals against average (GAA) for his club with 3.21. Andrew Oke has the highest save percentage (SV%) for the Spirit with an .891.
Sarnia's Ty Voit leads the OHL in assists (65), powerplay assists (29), and is third in points (81). The Toronto Maple Leafs prospect also holds top marks in the same categories for his team. Nolan Burke's 31 goals are the most for any Sting skater. Benjamin Gaudreau leads Sarnia goaltenders, posting a 3.23 GAA and an .884 SV%.
Saginaw has three (3) players drafted into the National Hockey League (NHL), including Matyas Sapovaliv (Vegas), Tristan Lennox (New York Islanders), and Hunter Haight (Minnesota).
Sarnia has nine (9) players with NHL ties, including Sandis Vilmanis (Florida), Sasha Pastujov (Anaheim), Luca Del Bel Belluz (Columbus), Nolan Burke (Nashville, FA), Ty Voit (Toronto), Christian Kyrou (Dallas), Ethan Del Mastro (Chicago), and Benjamin Gaudreau (San Jose).
Copyright 2023 WNEM. All rights reserved.