Michigan House votes to repeal state's right-to-work law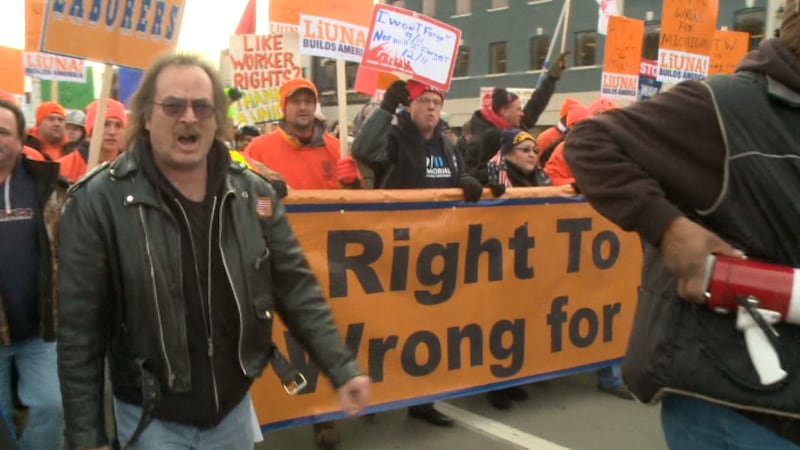 Published: Mar. 8, 2023 at 6:17 PM EST
|
Updated: Mar. 8, 2023 at 8:59 PM EST
LANSING, Mich. (WILX) - The Democratic-controlled House of Representatives voted 56-53 to repeal Michigan's right-to-work law Wednesday.
Earlier that day, hundreds of union leaders filled meeting rooms to encourage lawmakers to repeal the right-to-work law. Many of them protested when the then-Republican-controlled legislature passed the law in 2012. It allowed people to decide if they pay dues to join a union.
Rudy Reyes is a member of UAW Local 602, which represents workers at General Motors' Lansing-Delta Township assembly plant. He said the law created a rift among workers because people not in unions were getting union benefits.
"We fought for it all those years. Every time we've gotten a car, we had to give up things. So those people who don't pay union dues, they're riding for free," said Reyes
Michigan is one of 27 states with Right-to-Work laws.
Reyes said he thinks that weakened the union bargaining and people left the state.
"A lot of times people leave Michigan because there's not a fair wage here," said Reyes.
But business leaders said the state is attracting new jobs because of right-to-work.
"We're concerned about those next generations of jobs and things that we could lose out on," said Wendy Block, Michigan Chamber of Commerce Senior VP of Business Advocacy and Member Engagement.
Block said repealing the law would hurt future developments.
"We talk about the stable economic climate being very key to Michigan's success and so this idea is we're going to flip flop back and forth depending on who's in control that's not good for anyone," said Block.
Democrats said they hope to have this to the governor's desk by the end of the month.
Read next:
Subscribe to our News 10 newsletter and receive the latest local news and weather straight to your email every morning.
Copyright 2023 WILX. All rights reserved.